The Hancock-Henderson Quill, Inc.
---
Meet Your Neighbor
by Christy Kienast-The Quill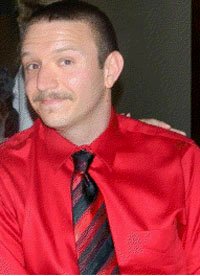 Meet your Teacher Ryan Kitch of Avon. Ryan has taught Kindergarten thru 8th grade Art class at La Harpe Community Schools for the last 6 years.
He previously had worked at Kmart, Farmland Foods, Subway and a group home in Galesburg.
Ryan was born at McDonough District Hospital in Macomb on August 9, 1981. He was raised in Prairie City.
He is the son of Bill and Pat Kitch of Avon. Bill is retired from BNSF and Pat is retired from the public aid office in Macomb working for the State of Illinois.
Ryan graduated in 1999 from Bushnell-Prairie City High school in Bushnell. He went on to attend Carl Sandburg College for 2 years in Galesburg and then attended Western Illinois University in Macomb from 2004 -2006.
Ryan married his wife Tracy Turner Kitch on July 16th, 2009 at the First Baptist Church in Bushnell. Tracey works for the Monmouth Roseville School District as a 6th grade Reading and Language Arts teacher at Central Intermediate School.
Ryan and Tracy have no children but they have 2 dogs and 3 cats that are spoiled rotten.
Ryan has one older sister, Tracy Weatherby who lives in Washington State with her husband, Darrin and their two children McKinley Ann, 7 and Knox Robert, 1. Tracy works as a nurse.
Ryan sees his greatest achievements as marrying his wife, being the first member of his family to graduate with a Bachelor's Degree and becoming a teacher.
His greatest vacation memories are his and Tracy's honeymoon to Branson, Missouri and their trip in 2008 to South Dakota to see Mt. Rushmore.
Ryan enjoys painting, drawing, reading, hunting, collecting comics, going to the movies, listening to music EXCEPT country music, and walking his dogs.
He enjoys watching football and playing the occasional video games.
---