The Hancock-Henderson Quill, Inc.
---
Meet Your Neighbor
by Susan Galbraith, The Quill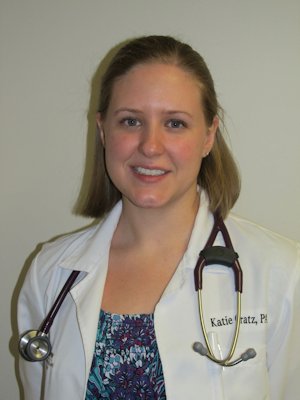 Meet Your Neighbor Katie Gratz, PA-Certified of Eagle View Health Systems in Oquawka.
Katie has been employed by Eagle View since October 2011.
She was born in Burlington, Iowa and raised in Donnellson, Iowa.
In 2004 she graduated from Marquette High School in West Point, Iowa. She continued her education at Simpson College in Indianola, Iowa earning a BS in Biology and a minor in Psychology in 2008. She then received her MS from Des Moines Iowa University in PA studies in 2011.
She is married to Eric who is employed by Deery Brothers in West Burlington, Iowa.
Her parents are Dan and Sue Myers of Donnellson, Iowa. Dan is a custom cabinetry and furniture manufacturer and her mother, is employed at Statts in Mt. Pleasant, Iowa.
She has one sister, Kim Wiggenjost who is engaged to Brandon Wilson. Kim is employed at Bagcaft in Ft. Madison, Iowa and Brandon is self employed in West Point, Iowa.
She also has one brother, Eric Myers, who is a sophomore at Iowa State University in Ames, Iowa.
Her hobbies include reading, and spending time with family and friends.
A very special memory was when she and James honeymooned in Jamaica. They relaxed on the beach, toured a rum factory, went snorkeling and swimming.
When asked what she enjoyed about being employed at Eagle View she replied, "Getting to know the patients and their families; being able to take care of the whole family."
---