The Hancock-Henderson Quill, Inc.
---
Organizers and Giertz Family Gather To Thank Harvesters
by Dessa Rodeffe, Quill Publisher/Owner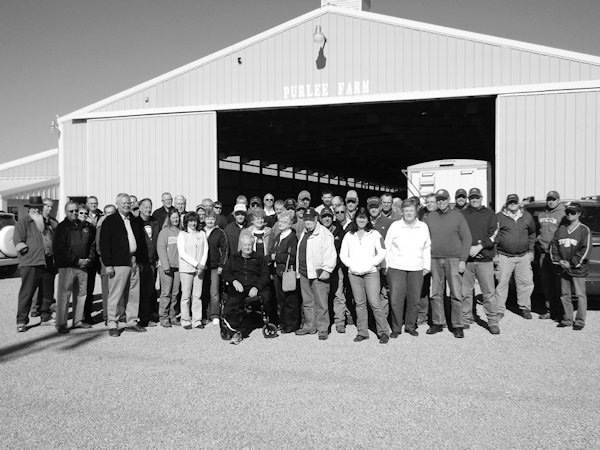 On a beautiful fall day, neighbors who provided help for the Steve Giertz harvest, were treated to a BBQ pork luncheon at the Jim Purlee "machine shed" near Galesburg.
Steve Giertz was injured in a farm accident this Spring while preparing to construct new bins on his farm. Giertz is doing fine. He is going to have the halo removed from his right leg soon, and is being fitted for a prosthesis on his amputated left leg.
Steve was overwhelmed with the support the community has given him, and thanked the sponsors, organizers, and all those who helped harvest this year's corn and soybean crop. It took a lot of pressure off his mind while he was recovering.
Also, to aide with harvest expense and other costs associated with the accident, Midwest Bank of Western Illinois set up an account where funds could be collected. Near $20,000 has been deposited.
Steve's parents, and uncle came from McClean County to say thank you, as well, along Steve's brother and partner in farming Greg and his wife.
Coordinators for the harvest and the appreciation meal were Les Allen, Jim Purlee, Matt and Dan Defenbaugh along sponsors of the meal, Tri-Oak Feed, and Midwest Bank of Western Illinois, and Big River Resources.
About half of those who helped were able to attend the luncheon as some were in the field on this beautiful day finishing up harvest.
The generosity of organizers and sponsors is typical of our rural way of life.
---