The Hancock-Henderson Quill, Inc.
---
Meet Your Neighbor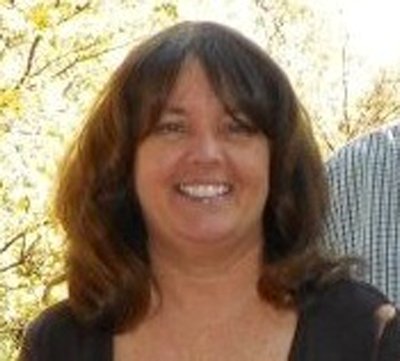 Lisa Ray of Oquawka.
Lisa was born and raised in Oquawka.
She was married to Scott Ray on May 23, 1987 at the Stronghurst Presbyterian Church. They celebrated their 25th anniversary this year.
Hubby, Scott, is employed with BNSF.
A daughter, Amanda Guyton is a stay at home mom and is married to Jason who also works for BNSF. They have four children, Jarid (12), Jon (10), Elaine (5), and Alisan (4).
They live in Biggsville and attend West Central.
Lisa said, "My grandchildren are like the 'Pot of Gold' at the end of the rainbow. I love attending their activities whether it's school programs, football, baseball, scouts or dance recitals.
A son, Austin Ray, lives in Biggsville and is employed at Farmland Foods.
Her parents are both deceased. Her father was William John Sr. who passed away in 1976 and worked at Gale Products. Mom, Elaine John, passed away in 1996. She was a stay at home mom who baby-sat for generations of kids in Oquawka.
Lisa is the youngest of eight children. Her sister, Marsha Chandler and oldest brother, Billy John are both deceased.
Brother, Ronnie lives in Las Vegas, Kenny (Roberta), is retired from Gates and currently is employed by the State of Illinois and lives in Oquawka, Keith (Darolyn) works for BNSF and lives in Oquawka, Denny (Lois) works for Veolia Water and lives in Burkburnett, Texas, and Kevin (Jane) is employed at Monmouth College and lives in Monmouth. Lisa said, "I have the best brother-in-law anyone could have, Larry Chandler, who is retired from the Iowa Army Ammunition Plant and lives in Oquawka.
Her paternal grandparents are the late William and Claudine John and maternal grandparents are the late Lewis and Pearl Gilliam.
She is a graduate of Union High School.
Lisa was previously employed at Community Memorial Hospital in Monmouth, the National Bank of Monmouth, the health center for 16 years and Community Health Center of Southeastern Iowa, Inc. She said, "However, I now have the best job ever, being a homemaker and a grandma!"
She is a member of the Oquawka United Methodist Church, Daisy, Brownie and Girl Scout leader for 7 years when her daughter was younger, involved in Boy Scouts for the past 18 years and co-chairperson of the Oquawka 4th of July Pageant.
A favorite vacation memory she has is when they traveled to Columbia, Tennessee, to visit her grandmother and other family members where her mother was born and raised. "I still travel there every chance I get."
Lisa is an aunt to 36 nieces and nephews, great-aunt to 74 and great-great aunt to 8.
"I love to being part of a big family...family is everything"!
---