The Hancock-Henderson Quill, Inc.

---
Russ Liston Honored For His Service by Historians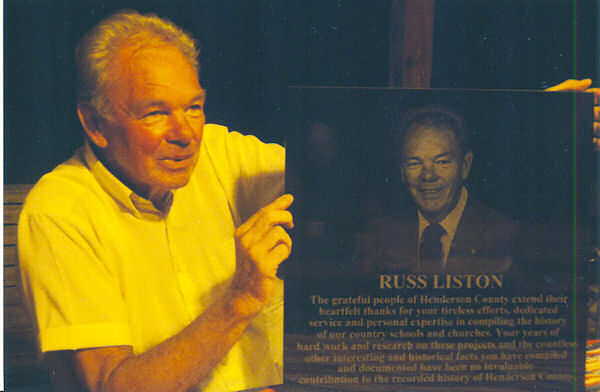 The Henderson County Historical Society met at the shelterhouse near the county museum in Raritan for their fall meeting.
After the nice potluck meal, President Bill Allaman introduced Russ Liston, who presented an interesting program about the Lynn Hotel in Biggsville that is supported by many stockholders and volunteers.
Following the program, Mr. Allaman presented a marble plaque to Russ that had the following words engraved on it.
RUSS LISTON
The grateful people of Henderson County extend their heartfelt thanks for your tireless efforts, dedicated service and personal expertise in compiling the history of our country schools and churches. Your years of hard work and research on these projects and the countless other interesting and historical facts you have complied and documented have been an invaluable contribution to the recorded history of Henderson County.
These well-wishes and thanks come from the many people that have enjoyed what Russ has done for our local history.
The plaque will be displayed in the Henderson County Library in Biggsville and the library board and staff voiced their appreciation for George D. Brokaw for all he has done for this tribute.
---