The Hancock-Henderson Quill, Inc.

---
Meet Your Neighbor
by Dessa Rodeffer, Quill Publisher/Owner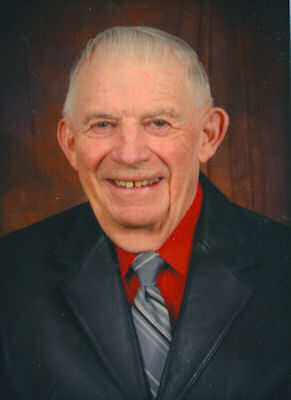 Meet Your Neighbor Gilbert Linder of Stronghurst. He moved from Iowa to run the Benteco Food store in Stronghurst with his wife Shirley, and daughter Sherry, and has been a contributor to this area ever since.
Gilbert, now 83, was born the oldest of four, in Yarmouth, Iowa on May 27, 1929, the son of Thomas and Vivian Linder (both deceased). His parents farmed and his father later worked at Montgomery Ward in Burlington, Iowa, his mother, hung wallpaper, housecleaned, and drove a school bus.
Gilbert has a sister Margie (Leo) who lives in Minnesota, a brother Raymond (Judy) who lives in Standwood, IA, sister Alieta (Ron) who lives in Kalona, IA who have brought him 13 nephews and nieces.
He graduated in 1948 from Morning Sun High School where he was active in basketball, baseball, band (trombone) and in a county 4-H club.
He kept busy in his youth with odd jobs and had a newspaper route. He worked at the local grocery store until he was drafted into the United States Army in 1951-53 during the Korean Conflict.
Gilbert was stationed in Germany as a "Mess Sergeant" in charge of a crew and feeding the whole Company. That meant peeling lots of potatoes.
He learned to break a couple of eggs in both hands at the same time without getting any shells in the pan, while the very hungry crew zoomed through for breakfast. They served toast, ham eggs, bacon - good food with no complaints about his cooking he says.
In Germany he cooked in a large Mess Hall but when on maneuvers, his crew cooked from a tent.
Happy to return to Iowa in 1953, Gilbert was received back at the Benteco grocery store in Morning Sun.
He was also happy to return to a girl that had caught his eye when she was a Junior in High School, Shirley Baker. He popped the question and they were married June 6,1954 in "The Little Brown Church" in the vale in Nashua, Iowa. They opened the courthouse that Sunday for all the hourly weddings that afternoon so marriage licenses could be purchased. As tradition after they were pronounced man and wife, Gilbert and Shirley pulled the rope together to ring the bell, symbolic of "pulling together" in your marriage. Maybe that, and God at their side, is what did the trick in these diverse times, as they celebrated 58 happy years together this past June.
Gilbert went on to work at Mediapolis and was sent by Benners to manage various stores as managers went on vacation. In 1955 their first child Sherry was born and in 1956 he remembers crossing the Mississippi with wife and baby staying in the Lightner's Motel in La Harpe for two weeks while he filled in for a Benner's store manager there.
In 1957, they moved to Stronghurst where Gilbert took over managing the Benner's store owned by Benner Tea for retiring Verlin VanStineburg. When Gilbert asked where Stronghurst was, he was told, "We don't know - get out a map!"
Gilbert and Shirley liked the people and the community and settled in after a few moves, into their present home across from Dr. Pogue's office and Eagle View along Main Street.
Second child Larry was born in 1958, Marvin born in 1960, and Barbie in 1965 - sadly with a brain defect.
Gilbert bought the grocery store and ran it in Stronghurst as Gilbert's Big Value for a few years until he moved to work at Benner's in Monmouth (also named Giant Foods and Econo Foods). He retired in 2001 and began selling advertising for The Quill.
He has served as trustee on the Stronghurst Village Board, served on the PTA for Stronghurst Schools, was a score keeper at the basketball games, and has been janitor with his wife at the Stronghurst United Methodist Church where he and Shirley are members. He is a member of the American Legion Post 765 and has been a Stronghurst Booster. He has continued throughout his life with odd jobs helping farmers with crops, carpentering, mowing yards, whatever needs done.
His family is his delight. Daughter Sherry (Mike) McCarty works with management at Short Hill Country Club in East Moline;
Larry works at General Dynamics in Pittsfield, Massachusetts in a "hush" government job;
Marvin of Carman (late wife Leslie recently died of cancer) works as a Design Engineer at CNH (Case New Holland) Burlington, IA where he and comrades designed the famous pink backhoe that has been traveling around the area "digging for a cure" to promote Breast Cancer Awareness;
Daughter Barbie, the couple cared for in their home after a prognoses of only 5 years. She lived to be 20 and passed away in 1985 in Burlington Medical Center.
A delight for Grandpa Gilbert is seeing their grandchildren. Oldest is Katie (McCarty) of Moline, who is married to Mike Noack with two children Julie and Alex for their only great grandchildren.
Youngest is Patton Linder, grandson from Massachusetts, now enrolled in George Washington University in DC. where Timothy Fort of Stronghurst is an Ethics' professor. (small world).
And the middle grandson who graduated from West Central High School, Andrew Linder of Bethalto. He works at the upscale chain in St. Louis Morton Steakhouse where the tips are good and makes for interesting conversation as Ram and Cardinals players, owners, actors appear there. He has visited with Tony LaRussa and has been invited and went golfing with Ozzie Smith and Willie McGee.
As far as free time, Gilbert spends it with Shirley who is Editor at the Quill and still helps as much as he can with selling advertisements.
They have enjoyed road trips and after their Florida honeymoon, enjoyed family trips to Mt. Rushmore, Yellowstone, Grand Canyon, Nashville, and the like, and more recently, on train trips to California and Massachusetts.
He is a loyal Cardinal fan and notes - the Cards are still winning!
---