The Hancock-Henderson Quill, Inc.
---
Meet Your Neighbor
by Susan Galbraith-The Quill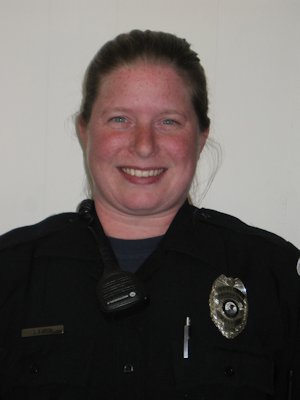 Meet Your Neighbor Angela (Angie) Garson of Warren County. Angie was born and raised in St. Louis and moved to Warren County in October of 2008.
Her mother, Teresa passed away in May of 2010. Her father, Leonard, lives in Pocahontas and is self-employed as a used car and antique dealer in the St. Louis area. He is also an avid amateur dirt stock car driver (began in 1965) at the race tracks in the St. Louis area.
Angie has one brother, Joe (Andrea) of Highland. Joe is a mechanic and Andrea is employed at Hidden Lake Winery in Aviston. They have one son, Lukas (6), and two girls, Leah (4) and Logan (1 month). Angie said, "I love to spoil them."
Her boyfriend, Tim Tygrett of Roseville, is employed as a technician at Kliene Equipment in Monmouth.
Her grandparents are Joe and Patricia Ferkel and Anita Newelt and Nathan Garson, all deceased.
In 1998 she graduated from Hazelwood East High School in St. Louis and continued her education at Lewis and Clark Community College in Godfrey where she received an Associate in Arts: Music Education 2001, Western Illinois University in Macomb where she received her Bachelor of Science Emergency Management and Minor in Law Enforcement and Criminal Justice in 2012. While at Western she was President of the WIU Emergency Management Student Organization.
In high school she was active in soccer, marching and jazz band, Fair St. Louis Honors Band (for July 4th activities downtown) and the All Juniors Honors Band at Mizzou.
Angie is employed for the Stronghurst and Woodhull Police Departments and also a substitute teacher for West Central School District.
Previously she was employed at O'Reilly Auto Parts in Monmouth and as a police officer in Avon.
She said, "My future plans are to find a job to make the piece of paper I received from WIU worth the payments I'll be making for a while."!
She said, "Actually, I am working on becoming a juvenile officer for Stronghurst and plan to use that to help kids to see that they can succeed and help them realize that anything is possible."
She attends Roseville Christian Church. Her hobbies are racing. "I raced with my dad from 1998-2020. I also enjoy outdoor activities, especially being on the farm and restoring old cars."
She is a member of the Illinois Police Association.
and various other organizations.
Welcome to Stronghurst, Angie!
---