The Hancock-Henderson Quill, Inc.
---
Honor Flight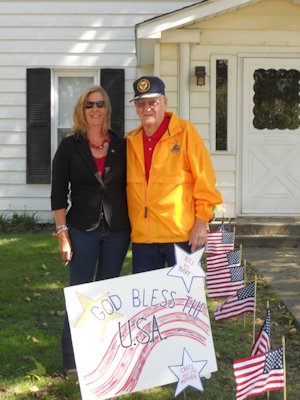 On September 20, 2012 Bill Hasten and Carol Palmer traveled to the Quad Cities to be a part of the Honor Flight to Washington DC. It was the 20th honor flight from the Quad Cities.
This particular flight honored the Korean War Veterans and a few WWII Veterans, there were 162 Veterans and Guardians from Gold Star families on this flight.
Bill Hasten was a Veteran of the Korean War and was able to share the experience with his niece, Gold Star Mother Carol Palmer.
There were several stops made during the trip to Washington DC. Some of them were the WW II Memorial, the Women's Memorial, Air Force Memorial, The Tomb of the Unknown Soldier, IWO Jima, and the Korean and Viet Nam Memorials.
A special note at the Tomb of the Unknown, during the changing of the guard the Quad Cities group did a wreath laying in honor of a soldier who had lost his life on Sept. 20, 2008, this is the first time this had been done.
The Korean War Memorial was very touching - the large statues of the soldiers who fought at night caught their expressions so vividily of what life was like. It was an amazing experience to see all of the Memorials and to learn the story behind each of them.
Upon our return to the Quad Cities, we were greeted by many people standing in a flag line including soldiers, children, and members of the Patriot Guard.
It was an honor to share this Honor Flight with all of the Veterans and especially Bill Hasten, my uncle.
Hopefully this will provide healing to those who have served, they have finally deserved the welcome home they should have had then.
---