The Hancock-Henderson Quill, Inc.
---
Meet Your Neighbor
by Joyce Wolf-The Quill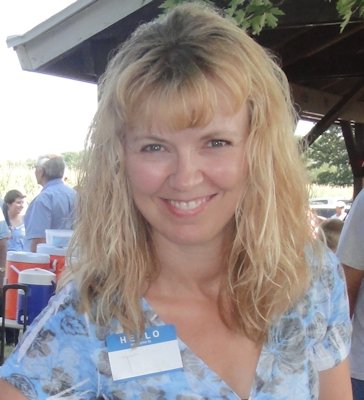 Meet your neighbor Tonya Defenbaugh, 37, who lives at Rural Route, Biggsville with her husband Matt. They have been married 17 years.
They have three children, Nicholas 8, a third grader at West Central Elementary School, Isabel, 4, a preschooler at MELC in Monmouth and Noah, a very active one year old.
Tonya grew up in Kirkwood and graduated from Yorkwood High School in 1993. Her father Ralph Peel and step-mom Bess live in Kirkwood and Ralph is employed by Big River Resources in West Burlington, Iowa.
Tonya has one brother and one sister, and one step-brother and two step-sisters.
While in High School Tonya worked part time at McDonalds in Monmouth as so many teenagers do.
Before their children joined their family, Tonya started working as a Teller at the Midwest Bank at the Oquawka Banking Center. From there, she went to the Main Bank in Monmouth and worked periodically at the Kirkwood Branch. She learned many aspects of banking in the 17 years she was with Midwest.
She has brought her knowledge of finances into the family farming operation. All the many aspects of agriculture and marketing are some of the challenges she has met.
Tonya has been a 'stay at home' mom for almost 2 years and has found it to be the most important and worthwhile job of all. Nicholas is a swimmer on the YMCA Waterbugs swim team and it keeps Mom busy with practices, swim meets and fund raisers!
Tonya shares her husband Matts love of the country life, and enjoys cooking up delicious meals as this writer can attest.
Matt is a licensed pilot and she enjoys attending several of his fly-in activities throughout the summer. These outings sometimes include camping out, which they all enjoy.
She also enjoys shopping and going out to eat with friends and family.
When Matt and Tonya were married, they honeymooned at Disney World, Orlando. They're planning to go again and take the kids before their 20th anniversary, since it IS FOR KIDS!
Tonya is continuing to learn more about agri-business and marketing. It is more of a challenge than ever before.
Tonya and Matt have attended Rozetta Baptist Church for more than 10 years and have known the Love of Jesus through the fellowship and activities of the church.
---