The Hancock-Henderson Quill, Inc.
---
Meet your neighbor and Illini West Senior, Clay Huston of La Harpe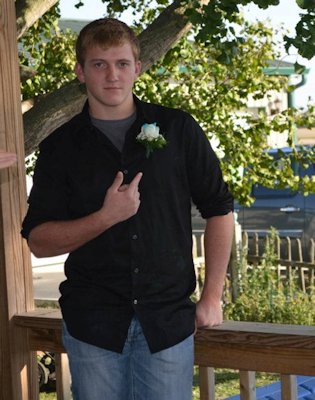 Clay was born on September 20, 1994 in Keokuk, Iowa. He is the son of Rex and Teresa Huston.
Rex works at Town and Country Service, Teresa works at Snyder Lance Company in Burlington, Iowa.
Clay is the middle child of seven children. He has 3 older siblings and 3 younger. His older sister, Bobi James, 29, lives in La Harpe and is married to Grant James. They have two children, Ethan and Rachel. Bobi is a lawyer in La Harpe, and Grant works for Pioneer in Bushnell.
Oldest brother, AJ, 28, was just recently married. AJ and his wife, Jamie, live in Camdenton, Missouri. AJ has two stepchildren, Jalen and Trey. AJ is in the National Guard and is working on getting his plumbers' license.
Brother Ty, 26, is married to Rachel Jones. They have 3 children, Nick, Ava and Ellie. They live in Fort Hood, Texas. Ty is an Intelligence Analyst for the U.S. Army.
Clays' younger siblings are Boni, 16 who goes to Illini West, Tucker, 15 who also goes to Illini West and Trace, 8 who goes to La Harpe Elementary.
Clay's favorite vacation memory was when he and his family went to South Carolina for a week and stayed near the beach. His favorite part of high school has been his whole senior year, meeting new friends and getting to hang out with old ones almost every day.
While in high school, Clay has been very active in the student life. He was the football team captain, FBLA vice-president, and he is vice-president of his class.
He just recently joined the Illinois National Guard and is a student leader at the La Harpe Christian Church.
He was recently named Charger of the Month and Senior of the Month at Illini West in October.
In his spare time, Clay enjoys hunting, lifting, hanging out with friends and he enjoys watching movies.
After graduation, Clay plans to go to basic training at Ft. Leonardwood, Missouri, along with AIT training in the summer. He then plans to attend the University of Illinois at Champaign, where he plans to major in business. He also is planning on joining SMP, which is a branch of the ROTC, becoming an officer in the guard and someday going into active duty.
---