The Hancock-Henderson Quill, Inc.
---
Meet Your Neighbor
by: Dessa Rodeffer-Quill Publisher/Owner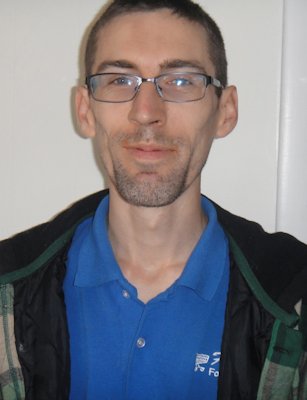 Meet your neighbor Chris Rodriguez, 28, who lives in Raritan and works at Fishers Food Center in Stronghurst.
Chris was born April 27, 1984 in Price, Utah and raised in Helper, Utah, which was named for the "helper" engines that assist the trains up through the mountain pass.
He attended pre-school through high school in Utah, graduating at Carbon High School in 2003. Worked at age 7 as newspaper delivery boy and worked for Wal-Mart at 16, and various jobs from 6th grade through 10th grade and worked for the school district two years during school through "work study".
At 18 he worked at S.O.S. Staffing where he was sent out on a variety of jobs.
Chris said, working most of his life, it was hard when the economy was bad and he couldn't find work for a couple of years. His grandparents in Raritan, invited him to come live with them and he was able to find work at the grocery store.
His grandparents are Lewis and Lou Ann Arnold.
His mother is Vallery (Arnold) Berneche of Utah and his father is Larry Rodriguez who lives in California.
Chris lived with his dad, a retired painter, for a year before coming to Raritan.
"I had lived in Pismo Beach between L.A. and San Francisco as a toddler for a short time", Chris said.
His grandparents live on Main Street Raritan between the Opera House and the Bank with Orlin and Ruth Olsen as their neighbors. "It's a very peaceful place," at his grandparents and in Raritan, Chris said. "People are nice."
Chris says he enjoys fishing and camping, video games, playing guitar and drums and attending activities that go on through out the county.
He attends church with his grandparents at the Raritan Baptist Church where Dan Ashton preaches.
He especially enjoyed seeing Ashton perform as General Grant at The Quill during the Christmas walk since Chris and General Grant share the same birthdays - April 27.
Chris's step dad, Ron Berneche, is an engineer for the Union-Pacific railroad His mom works at a local grocery store.
Chris has three brothers and one sister. The youngest is Alex Rodriguez in middle school, a half brother Ian Rodriguez, also a half brother in middle school, and a half brother Brad Berneche who has graduated high school and lives at home and a full sister Shantel Rodriguez, who is married and lives in Utah and works as a hair stylist and a raceptionist for a doctor.
Chris says his grandparents had owned a store in Nevada for ten years (1984-2004) - "Mom's Place". But a flood actually shut their store down. The floods stopped miners from being able to work so they stopped coming into their store. The mines were in Death Valley.
That's when the Arnolds moved back to Raritan where they grew up. Chris has visited them a couple of times here and had attended the Raritan Fire works. He thinks it is interesting to actually see the process of how farming is actually done. "There is nothing like that in Utah," he said.
Chris said as a family, he and his mom and stepdad and siblings enjoyed special trips all overl He also has been to the Lincoln Museum in Springfield, which he says is awesome.
When you shop in Fishers Food, stop Chris and welcome him to Henderson County.
---