The Hancock-Henderson Quill, Inc.
---
Meet Your Neighbor
by Dessa Rodeffer,
Quill Publisher/Owner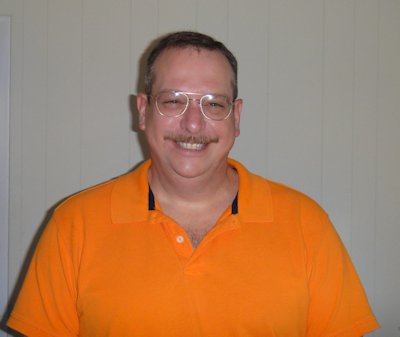 Rob Williamson of Raritan, an employer at Fishers Food Center in Stronghurst.
Rob was born in Macomb and raised in Bushnell where he graduated in 1981 from Bushnell-Prairie City. He played football, baseball, was a trainer for basketball and a member of the National Honor Society.
He attended three years at Western Illinois University in Macomb and his father lost his job.
Rob said he couldn't afford to go back to finish his senior year of college. He floundered for about three years. All his uncles were veterans who served in the Korean War or WW II, a heritage he wanted to carry on. Making the decision to leave everyone at home and head for boot camp took a bit of time but he knew he wanted to go. He joined the ranks of the United States military.
Rob chose the Navy to be in aviation to work on jets, a way to serve his country and be with others of like mind. Some of his best friends were made over his 22 years of service.
A highlight was becoming Chief Petty Officer, Sept, 15, 1998 in the Gulf on the Abraham Lincoln, a milestone he'll never forget. It's quite a process to be selected.
Another highlight was the next to the last tour of duty. He was with the war fighting team "Strike Fighter Squadron 14 that honorably represents our country. It was here he was able to make a difference in 20 entry level sailors and help them with career choices. "It was quite rewarding, Rob said.
"We were all being deployed on the U.S.S. Nimitz from Lemoore, CA naval station to the Arabian Gulf for 'Iraqi Freedom'. We didn't have a single mishap on any of the many missions in all three of the deployments," Rob said. Our planes all came back safely."
A tough time was at the beginning when the Lincoln just came out of dry dock and they ran it through the ringer to make sure it could withstand anything before they sent her out on a mission. Yes, the guys and Rob got seasick. It's confidental how fast the ships go but they travel really fast, which surprises one for such a huge vessel.
The hardest thing, looking back on his life was two things. Making the decision to go and making the decision to retire.
Rob retired November 2008 Senior Chief Petty Officer after 22 satisfying years. If he had stayed, he was being considered for a good promotion, but he said the military is being downsized and the times are changing. It's very competitive to get into the service today.
Rob's parents are Robert and Peggy Williamson. His mom passed away January of 1999, his dad died in November 2011. His Dad had been employed by Norcross & Sons Manufacturing in Bushnell and was laid off in 1984 after 37 years.
Rob said his mother was a homemaker, mother, grandmother and a pro at each.
Rob has a brother Rod (Mary Meade) Williamson who just retired as a Guidance Counselor from Carl Sandburg College; and a sister Rhonda (Ron) Hobby who lives not too far from him in rural Media. She is a homemaker after working at Admiral until it closed. Her husband farms.
Rob was married to Shelly Heinz and they have a son Phillip, age 16, who lives in Lafayette, Indiana who will be happy to know he's getting his dad's Silverado Chevy truck as his first vehicle.
His son joins his dad in his single life from time to time fishing and hunting together, though the river was pretty low this year.
Rob's a member of the VFW, American Legion, and has been enjoying getting acquainted with folks in Henderson County. He chose the area to be near the Mississippi River and it's near home and family.
Thank you Rob for your service to our County.
---