The Hancock-Henderson Quill, Inc.
---
Meet Your Neighbor
by Christy Kienast-The Quill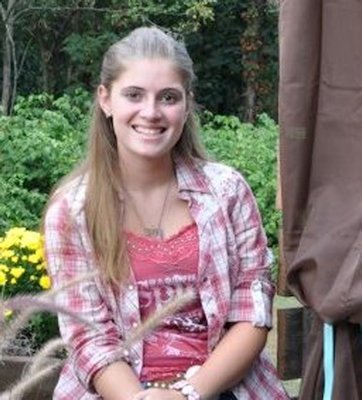 Meet your neighbor and Illini West Senior Marissa Hocker of La Harpe. Marissa was born on July 31, 1995 in Macomb.
She is the daughter of Chad and Tracey Hocker.
Her dad is a conductor for BNSF railroad and her mom is the shipping coordinator for Pioneer Seed in Good Hope.
Marissa has one brother, Levi, 11 who attends school at La Harpe Junior High.
She is the granddaughter of James and Sarah Todd, Bruce and Cindy Pollock and Scott and Sharon Hocker.
She is involved in numerous activities including Girl Scouts, Key Club, Art Club, FFA and a member of the Trap Team. She is also a member and Deacon at the Fountain Green Presbyterian Church.
Marissa loves to read, photography and lay in the hammock with her puppy, Sloan.
After high school, she plans to attend college and major in Ag Economics.
Her favorite vacation memories are going on a trail ride in Missouri, the Girl Scout cruise this last summer, the Ole General Mission with her friends and two other mission trips she has been on.
She has made the Honor Roll all 4 years of high school. In 2010 she got 3rd place Top Gun Girl and in 2012 her team got 3rd place at a Trap meet.
---