The Hancock-Henderson Quill, Inc.
---
Meet Your Neighbor
by Christy Kienast-The Quill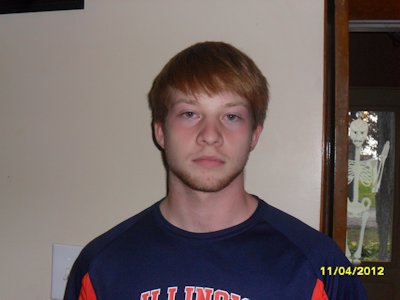 Meet Your Illini West Senior Devin Lionberger of La Harpe.
Devin was born on September 26, 1994 in Macomb.
He is the son of Mike and Tina Lionberger. Mike works for Frontier and Tina owns Lions Den Daycare in La Harpe.
Devin has two sisters, Baileigh 11, who is the sixth grade at La Harpe Junior High and Lily, 6 who attends La Harpe Elementary school.
His grandparents are Bob and Nancy Lionberger of La Harpe, Jennifer Topping of La Harpe and Dan Topping of Birmingham, Iowa.
Devin has played football all 4 years of his high school career and has been involved in FBLA and is the president of the Art club. His hobbies include chillin' with friends, football and growing out the beard.
His most memorable moments of high school have been all 4 football seasons.
His favorite vacation memories are going to C.I.Y at Milligan College in Tennesse because "We partied it up" and there were no parents.
Devin's plans after high school are to either join the military or go on to college.
---