The Hancock-Henderson Quill, Inc.
---
MEET YOUR NEIGHBOR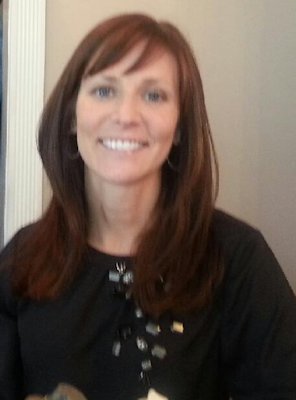 Jill (McGuire) McClintock, Oquawka. Jill was born in Monmouth and raised in Cameron - a suburb of Monmouth!
Jill married Scott McClintock on June 5, 2004 at the First Lutheran Church in Monmouth. "We have a four legged child, Mooch!"
Jill's mom is Linda McGuire who works at the Farm Service Agency in Warren County.
Jill's oldest brother, JP, and his wife, Amy, live in Malta IL. JP works at Marklund and Amy is a nurse for Illinois Youth Center.
Her second oldest brother, Jamie, and his wife, Jennifer, live in Galesburg. Jamie works at Neovia Logistic Services and Jennifer works at Accenture in Peoria. They have two beautiful children, Brayden (2) and Brody (1).
Her baby brother, Justin, lives in Cedar Rapids and works for ADM.
Jill graduated from Warren High School in 1999 where she was involved with a plethora of activities. She went on to attend and graduate from the University of Illinois at Urbana/ Champaign in 2003. She majored in Community Health with an emphasis on Health Planning and Administration.
Currently, Jill is employed by USF Holland in Rock Island as an Account Executive. Prior to this employer, she was a Community Liaison for Lincoln Prairie Behavioral Health Center in Springfield.
When not working, Jill enjoys reading, running, traveling and spending time with her family and friends. She and husband Scott are members of Faith United Presbyterian Church in Monmouth, where she is also a Deacon. She also is a member of the Jamieson Community Center board.
Jill says, "My mom did an amazing job of instilling the importance of family in our household, so we have a lot of traditions! But, my favorite is Christmas Eve. We always go to my aunt's house, eat a yummy meal and attend church."
Jill's favorite vacation was a trip to Cozumel a few winters ago. She and her husband enjoyed relaxing by the beach and not having access to their cell phones!
Jill just finished a two year term serving as the Henderson County Republican President. Her husband is the current Henderson County State's Attorney.
---