The Hancock-Henderson Quill, Inc.
---
Many Observe Memorial Day Around The County
by Dessa Rodeffer, Quill Publisher
Over the weekend, Henderson County's patriots were gathered at various Memorial services around the county, in observance of the sacrifices so many have made for America, and for each of us.
Freedom is given to us by the hands of the bold and by the tears of those who wait at home for their return..
The best energies of many of our citizens lives were spent in endeavoring to establish a free government for our well being.
Many of our nations' leaders have reminded us and continue to remind us, that none of us can afford to sit on the sidelines and only hope that all will be well.
We each must find ways of giving back to secure the next generation's freedom and security.
It's never too late to teach our children, even if they are grown, that we must remember what Memorial Day is really about, so none of us will forget.
There is always a cost to our freedom, and there is always others trying to take it away. If we are not joining the military, we can always support those who do. We can also march to the ballot box and select men and women of integrity as our leaders. As President John Kennedy said to fellow Americans: "Ask not what your country can do for you-ask what you can do for your country."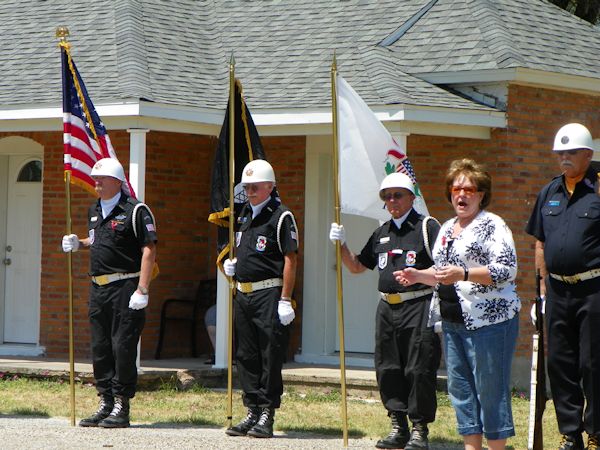 Cherie Simpson, whose father was a survivor of the USS Indianapolis, sang "God Bless America" during Oquawka's Memorial Day Service on Sunday at the Oquawka Cemetery. The Honor Guard from Monmouth conducted the Memorial Service on a hot afternoon, as several gathered from the community to salute their fallen heroes and those who serve in the U.S.A.'s military.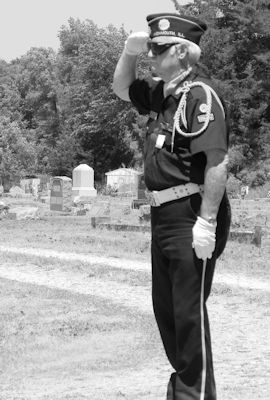 A Veteran Salutes his fellow comrades. -photos by Lisa Ray
---