The Hancock-Henderson Quill, Inc.
---
Meet Your Neighbor
by Misty Huston, The Quill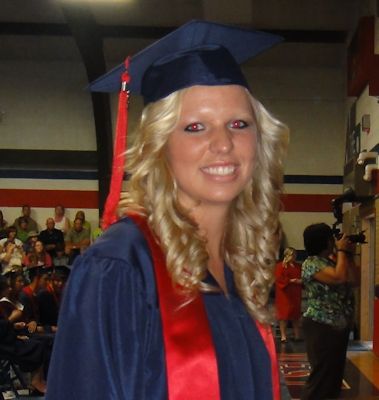 Meet Your Neighbor, Ali Postle of Stronghurst.
Ali is currently employed for the summer at The Henderson County Quill in Stronghurst as a typist.
She was born in Burlington, Iowa June 21st, a month early, and spent her first weeks in the neonatal care in Iowa City before coming home with her parents and older brother to live in Stronghurst.
Her parents are Scott and Tami Postle of Stronghurst.
Scott is employed at General Electric Switchgear Dept., Agency Road, in Burlington, Iowa.
Her mother Tami, is a Registered Nurse at Great River Medical Center, Women and Family Center, and she is the bookkeeper for The Quill.
Ali has one sibling, her older brother, "Drew". Drew is a 2010 graduate of West Central High, and just finished his second year at the University of Illinois as a Business Major. He is working various jobs this summer including paginating newspaper pages at the Quill on Tuesday evenings.
Ali is a 2012 graduate of West Central High School.
While in High School she was involved in Student Council, Drama Club, Basketball and Volleyball. She enjoyed being in the play and the competition of the Heat sports.
She is also currently a member of the Happy Rock Clovers 4-H group in Biggsville, serves on the Republican Women's Committee, helping at the summer events, and annual picnic at Delabar State Park.
She is a member of the Stronghurst Presbyterian Church.
Her future plans are to attend Northern Illinois University this fall in DeKalb, and obtain a degree in Nursing. In her spare time, Ali enjoys playing basketball, swimming and hanging out with friends and traveling to her relatives.
She has fond memories of going to Disney World with her family twice and really would like to go back. She has enjoyed many trips with her "2nd family" and best friend Gretchen Higgins.
---