The Hancock-Henderson Quill, Inc.
---
Illini West Graduation
by Christy Kienast, The Quill
On a sunny Sunday, May 20, 2012, ninety-three (93) students walked across the stage at Illini West High School in Carthage to receive their high school diplomas.
Illini West Principal Brad Gooding told graduates that "Illini West is your home, and you are always welcome at home, anytime. After today, you are a little fish in the big pond of life.
"Keep these 3 things in mind to guide you from this day. #1 Commitment- be committed to whatever you decide to do.
#2 Responsibility- You are your own person. It is up to you now to get the job done. And lastly, Honor- Never let there be a question about your character. Have character, don't be a character."
Sam Newberry and Kirby Fecht addressed the Class of 2012. Fecht quoted Winston Churchill saying, "There are 3 kinds of people in this world. Those who make things happen, those who let things happen and those who don't know anything happened." He asked his classmates, "Who do you want to be?"
Taylor Dittmer, daughter of Josh and Valeri Dittmer received the DAR/SAR Citizenship Award presented by Mary Ann Kane.
American Legion Good Citizenship awards were given to Kayden Guymon, son of Kent and Teresa Guymon and Mary Carroll daughter of Carrie Carroll and Dan Carroll.
Graduation honors include:
Cum Laude (GPA 3.6-3.749)- Rachel Bavery, Emily Bolton, Alex Gold, Brittany Jones, Jace Kost, Lindsay Rupert.
Magna Cum Laude (GPA 3.750-3.890) Jacob Adams, Taylor Dittmer, McKinnsey Erlenbush, Halie Goetz, Kody Horn, Kyle Miller
Summa Cum Laude ( GPA 3.900-4.000) Mary Carroll, Taylor Duffy, Kirby Fecht, Kayden Guymon, Sam Newberry, Megan Schaller
Those students in the National Honor Society are Rachel Bavery, Emily Bolton, Mary Carroll, Kirby Fecht, Halie Goetz, Kayden Guymon, Christian Holtsclaw, Samantha Leon, Kyle Miller, Sam Newberry, Lindsay Rupert.
2011-12 Class Officers are:
President: Halie Goetz
Vice-President: Rachel Bavery
Secretary: Mary Carroll
Treasurer: Megan Schaller
IW 2011-12 Graduates
Jacob Timothy Adams
Kirby Dean Fecht*
Johnathan Wayne Martin Jr.
Kelli Jean Adkisson
Emily Ann Fink
Evan Scott McGaughey
Tanner Wendell Anderson
Jordan Waide Finley
Alec David Miller
Brett Justin Appel
Sawyer James Flynn
Kyle Andrew Miller*
John Elbe Bastert
Hayden Edward Fox
Courtney Joy Morarend
Rachel Lynn Bavery*
Joseph Keith Frakes
Kane C Murfin
Kelsie Jo Bawden
Halie Rose Goetz*
Dallas Wayne Neff
Connor Seth Beals
Alex Carlton Gold
Samuel Wayne Newberry*
Austen Lane Becerra
Courtney Jo Graves
Jeremy Scott Nicol
Shani Alexis Belshaw
Lauren Michael Gronewold
Beau Alekzander Passmore
Emily Ann Bolton*
Kayden Kent Guymon*
Kailea Jean Peterson
Jennifer Lynn Bowman
Christian Mark Holtsclaw*
Danielle Marie Rhodes
Robert Tyler Brown
Kody Robert Horn
Carly Danielle Roberts
Susannah Blossom Brown
Haley Dawn Horton
Lindsay Noel Rupert*
Tyler Dean Bruns
Riccy Sue Hostetler
Arica Rose Schaefer
Kyle Patrick Burling
Jeremy Allen Imthurn
Megan Lynn Schaller
Cassidy Michaela Burt
Matthew Dawson Irish
Samantha Kay Scott
Mary Louise Carroll*
Katelyn Jo Jacoby
Austin Thomas Smith
Cole Robert Carson
Skyler Leigh Johnson
Kody Allen Smith
Samuel Taylor Clanton
Andrew Allen Jones
Alexander Odell Stone
Grant Hamilton Clark
Brittany Marie Jones
Christopher James Stromquist
Ashley Nicole Cox
Dominic Layton Jones
Alyson Marie Taus
Jared Nathaniel Crim
Alana Rochelle Kelly
Austin Rhett Thompson
Benjamin Joseph Cunningham
Ashley Dawn Kerfoot
Andrea Jolene Trout
Austin Craig Curfman
Spencer Sebastian
John Kirkenslager
Lucas Alan Clyde Turner
Kayla Renee Dickson
Jace Timothy Kost
Kierstien Athena Wales
Taylor Marie Dittmer
Cole Edward Lee
Coulton Donald Wayne Wascher
Nicklaus John Driskell
Samantha Nicole Leon*
Kevin Michael Winters
Taylor Renee Duffy
Sonny C Little
Ashley Michelle Wiseman
Jacy Ray Ellefritz
John Edward Malloy
Shane Delano Wood
McKinnsey Jo Erlenbush Aaron Patrick Mann Tyler Joseph Worley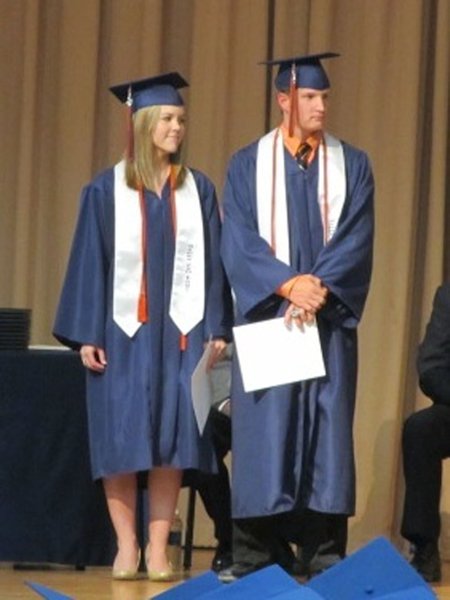 American Legion Good Citizenship Award winners from left: Mary Carroll,and Kayden Guymon.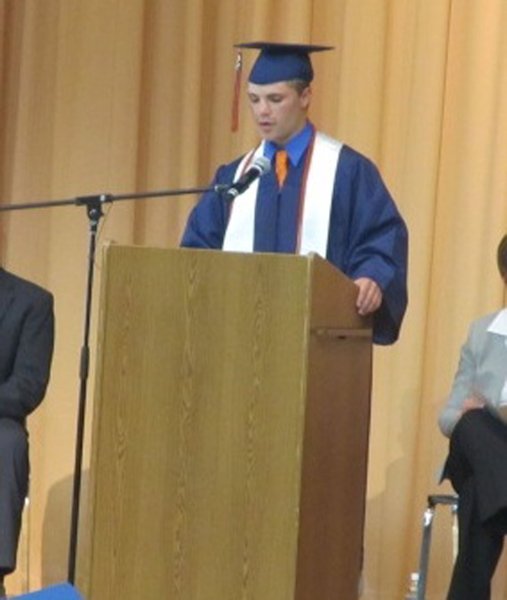 Kirby Fetch addressing the Illini West Graduating Class of 2012.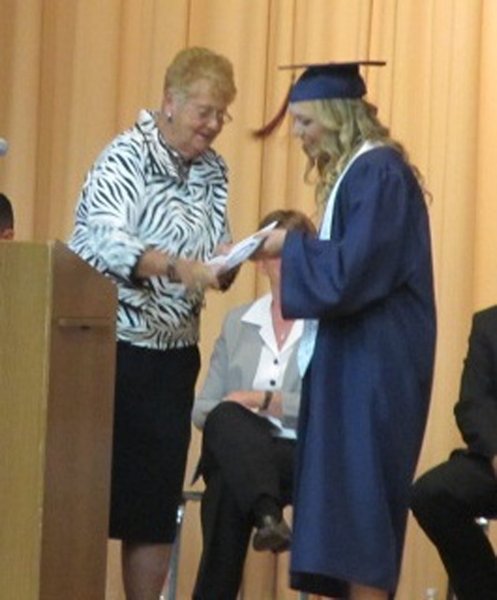 Mary Ann Kane awards the DAR Good Citizenship award to Taylor Dittmer.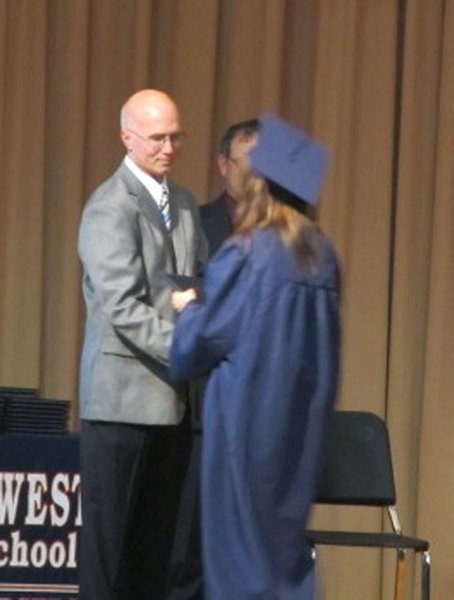 Ashley Cox receives her diploma from IW School Board President Tracey Anders
---