The Hancock-Henderson Quill, Inc.
---
Meet Your Neighbor
by Susan Galbraith, The Quill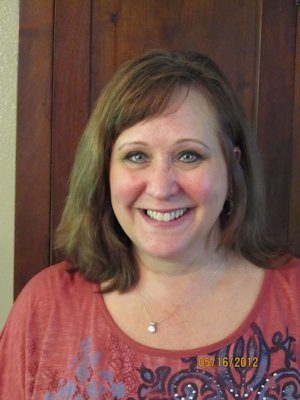 Meet Your Neighbor Cyndi Hungerford of rural Gladstone.
Cyndi is employed at Hy-Vee south in Burlington, Iowa as a cashier.
She was previously employed at F & M Bank in Burlington, Iowa and before that was the manager of an Aldi Food Store in Mason City, Iowa.
She was born and raised in Mason City, Iowa and graduated from Mason City High School.
Cyndi and hubby, Mark, will celebrate their 10th anniversary in October. Mark is self employed and owner/operator of his own semi business.
Her parents, both deceased, are Galyn and Darlene James.
She has two brothers, Gray (Claudia) James and Wade James.
Gray is a chef and Claudia is an RN. all live in Mason City.
She and Mark have three children. Travis (Tami) Dodd, Mandy (Ron) Wise, and Nikki Schulte. The Dodd's and Wise's live in Mason City and Nikki lives in Hastings, Nebraska. Travis is employed by Canadian Pacific Railroad as an engineer/conductor and Tami works part time and is a full time homemaker, Mandi a CNA and Ron is a recent graduate of Riverland Community in Austin, MN with a certification in Auto Body Refinishing/Customization. He is employed by Secondary Paint CDI in Forest City, IA. He graduated on a Friday and by Monday he had applied and was accepted at Secondary Paint CDI in Forest City, Iowa.
Mandi and Ron are expecting their first baby girl in July. She will be named Lillian (Lily) Faith.
She and Mark have 4 grandchildren, Rylee Schulte (4) who lives in Hastings, Nebraska, Trey (7),and Trenton Wise (5) and Mia Dodd (18) months, all of Mason City.
Cyndi attends Harmony Bible Church in Danville, Iowa.
Her hobbies are spending times with their kids and grandkids, yard work and riding her horses.
She has traveled quite a lot living in Japan, Texas, South Carolina and California.
When asked what she enjoys about living in the country she said, "Being able to groom and ride my three horses.
When I feel down I go out to the horse barn and spend time with my horses. They cheer me up."
Cyndi said, "When I was younger I wanted to be a veterinarian because I love horses and I also would have loved to work in a labor and delivery room at a hospital helping with babies."
She said, "My son has also carried on my tradition with the love of animals."
---