The Hancock-Henderson Quill, Inc.
---
Meet Your Neighbor
by Christy Kienast-The Quill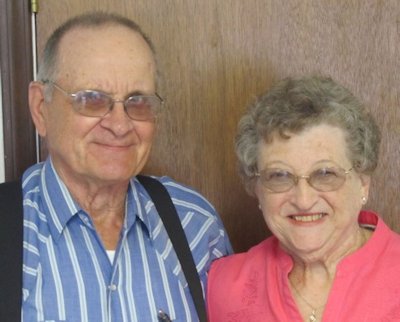 Meet your neighbors, Chuck and Elaine White of La Harpe.
Charles (Chuck) was born to Hollis and Mary White at the La Harpe Hospital and was raised in Knox County.
Elaine was born to Errett and Zelma Hodges in the Fountain Green Township and was raised in the La Harpe area.
Chuck graduated from Abingdon High School in the class of 1952. Elaine graduated from La Harpe High School in 1955.
The couple have been married for 57 years. They have three daughters-Kathleen Rouse, Kim Walker and Janice Caston. They have grandchildren and 17 great grandchildren.
Chuck has three brothers and two sisters. Laurence lives in Bakersfield, California, Dick lives in Tucson, AZ.
Bob lives in Burlington, IA, Pat Gray lives in Abingdon and Mary Lovell lives in Peoria.
Elaine has one sister, Betty Traisnel of Olather, KS and one brother, Max Hodges, deceased.
Chuck and Elaine are both retired. Chuck worked at Champion Sparkplug in Burlington, IA, for 23 years and was a custodian and bus driver for the La Harpe School District.
Elaine worked part time as a secretary at the Carthage Livestock Auction and the La Harpe Elevator.
Chuck and Elaine are members of the Durham United Methodist Church. Chuck is also a member of the La Harpe Lion's Club, La Harpe Park District and the La Harpe Educational Foundation. Elaine is a member of the Disco Embroidery Club.
Their most memorable vacation was to celebrate their 50th wedding Anniversary. They went to Los Angeles, California where they toured where they were decorating the floats for the Rose Bowl Parade and had great seats to watch the parade. They also went to the Crystal Cathedral to see the "Glory of Christmas" and toured the Kodak Theater.
Chuck and Elaine like to watch their granddaughter play college softball and watching sports on TV.
Chuck likes to garden and Elaine likes hand work such as embroidery and she likes to read.
---