The Hancock-Henderson Quill, Inc.
---
Meet Your Neighbor
by Susan Galbraith, The Quill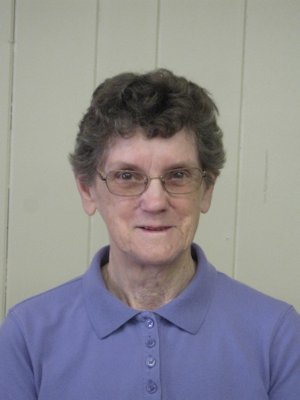 Meet Your Neighbor Theo Phillips of Media.
Theo has been employed by Bob's TV in Stronghurst since December of 1988 and in the 70's she worked part time.
Previous employment was at the Hurry Back Grill for 12 years as a cook.
She was born in the home of Perry Stamp in Stronghurst and raised in Decorra.
She was a student at Peasley Country School for her first 8 years of her education and graduated from Stronghurst High School in 1954.
Her hubby, Bill, is a retired semi driver. They will celebrate their 58th wedding anniversary in July of this year.
She and Bill were in school together and graduated in the same class in 1954.
Theo said, "Bill was one of the first "Meet Your Neighbors' for the Quill many years ago.
She and Bill have raised 6 children. Two sons, Ron (Yolanda) who lives in Denver, Colorado and Willie and his finance, Kathy, who live in Jonesboro, Tennessee. Ron is a semi driver and Yolanda does babysitting. Willie is a lawn care specialist and Kathy is a receptionist for a doctors office.
They have four daughters, Patti (Neal) Avery of Media, Vicky (Cliff) Trujillo of Colorado Springs, Colorado, and Rita Phillips of Colorado Springs. Patti is employed at Siemens in Fort Madison, Iowa and Neal is retired from General Electric in Burlington, Iowa. Vicky is a housekeeper and Cliff is employed at a tool and dye company. Another daughter, Judy Gaylord is deceased.
Her parents, George and Dorothy Brewer are deceased.
Theo has one sister, Barbara (Clyde) Piper of Burlington, Iowa and a brother, Richard (June) Brewer of Indiana. A brother, Wilbur, is deceased.
She has 23 grandchildren that include Travis Phillips, Brent Phillips, Steph Phillips, Jeromy Phillips, Hope Root, Brad Avery, Thad Gaylord, Angie Dustin, Nicole Plackett, Jeric Plackett, Justin VanTassell, Cristan Creasey, Josh Phillips, Megan Ross, Katie Grob, John and Matthew, Laura Hoover, Tayler Hoover, Austin and Macy Hughes. Two granddaughters are deceased, Jennifer and Stacey Phillips.
Her 14 great-grandchildren are: Garrett Phillips, Ashlyn Phillips, Dalton Phillips, Derrick Phillips Stephanie Phillips, Traven Root, Tyler Root, Taren Root, Talon Root, Austin Gaylord, Alexis Gaylord, Kycen Dustin, Ambrosia Dustin and Schler Plackett.
In her spare time she loves to read, bake and bowl. She is a member of the Henderson County Ladies League. She said, "Those gals are great to bowl and have fun with."
When asked about any special vacation memories she said, "I don't like to travel! However, we meet our son, from Tennessee, in Missouri periodically."
While working at Bobs TV she said, "I enjoy meeting the public and the people I work with are great."
She is a member of the Red Hatters ladies group and even though she works she enjoys the meetings she is able to attend.
---