The Hancock-Henderson Quill, Inc.
---
Meet Your Neighbor
Where Are They Now?
by Christy Kienast-The Quill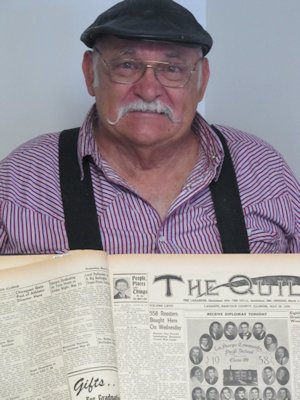 Meet your neighbor David Patterson of Tucson, Arizona.
David was born in La Harpe at the La Harpe Hospital on June 21, 1939. He is the son of Virgil Keith "Pat" Patterson and Anne "Bobby" Carnes Patterson.
Virgil was a Union Electrician and passed away in 1967. Anna was a nursing assistant at the La Harpe Hospital and passed away in 2001.
David graduated from La Harpe High School in 1958. David has two brothers, Tom and Larry. Tom is a retired railroad electrician and lives in Tucson. Brother Larry is deceased.
David married his sweetheart, Donna Southered. She passed away in 2004.
David and Donna had three children, Leia, Laura and James. Leia lives in Tucson, and Laura lives in Pekin and James is deceased.
David was a Union Electrician for 35 years. He retired in 1998, two years early because they offered early retirement.
His grandfathers were Jesse and James and they were rural Burnside farmers. The barn and work shed are still standing today.
David was in the Navy for four years from 1959 to 1962. He loves to play in Texas Hold'em Poker Tournaments and is proud to say he is good at it. Right now he is in the middle of writing a science fiction adventure book that takes place on Mars. His brother is helping edit his work.
David says the fact that he has survived is an accomplishment. He is not skilled at one thing but can do anything.
His favorite vacation memories are going to California with his wife and kids. David rode his Harley Davidson motorcycle for 50 years and just gave it up 3 years ago.
He says he has fond memories of La Harpe, remembering the "Ladies Restroom," and the Quill office.
He misses the green fields and trees and his home state of Illinois; but not the winters.
David has always wondered what happened to his old girlfriend, Kay Conlee.
If anyone has any information about her, please contact David or the Quill office in La Harpe.
---