The Hancock-Henderson Quill, Inc.
---
Meet Your Neighbor
by Christy Kienast-The Quill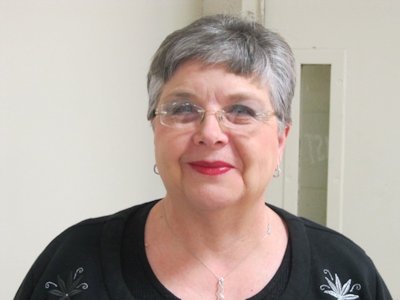 Meet your neighbor Betty Jo Blaesing of Dallas City.
Betty was born in 1948 in Moberly, Missouri to Marvin and Mary Foudree.
Marvin passed away in 1999 but Mary still lives on the family farm they bought back in 1947.
Betty graduated from Westran High School in Huntsville, MO in 1966. She went onto attend Moberly Jr. College and graduated in 1968.
She then attended Northeast Missouri State (Truman State) at Kirksville until 1970.
Betty has 1 sister and two brothers.
Sister, Karen Zimmerman lives in Filley, Nebraska. She is a retired Business Education teacher.
Karen and her husband Dean live on a farm. Their son, Derek is a sophomore at Freeman High School in Adams, Nebraska.
Brother, Roy lives in rural Huntsville, Missouri. Roy and his wife Cindy have two sons, Dustyn and Devin (deceased). Roy is the President of Foudree Construction and Concrete. He also runs a guide service called Gunn Creek Outfitters.
Brother, Robert is a pharmacist. Robert and his wife Gerrie have two daughters, Katy Owens and Bobbi Jo Foudree. Rob and Gerrie live in Columbia, Missouri.
In September 1970, Betty married David Blaesing. David grew up in Muscatine, Iowa. David graduated from Missouri State in 1970 with a BA in Industrial Arts and his Masters in Secondary School Education. He taught 8th grade Industrial Arts for the Fort Madison Schools in Iowa for 7 years. He was the Maintenance Director for the Dallas City Schools for 5 years and then he worked in the auto sales business. David now has worked for Shottenkirk, Inc. for over 25 years.
Betty and David have been married for 41 years. They have two children, Daniel Blaesing and Elizabeth Hitz. Daniel graduated from Dallas City High school in 1996 and attended Carl Sandburg College. He and his wife Kris live in Burlington, Iowa.
Elizabeth or "Liz" as she is known, graduated from Dallas City High School in 2000. She attended Carl Sandburg College and Western Illinois University where she graduated from in 2006. Liz and her husband, Ben, live in La Harpe.
Betty's grandparents were Lucius and Viola Mae Foudree of Huntsville.
Grandpa Foudree was a farmer and horse trader.
J. Sam and Alpha Harlan lived on a farm in rural Chariton County, Missouri. Grandpa Harlan was a farmer, worked for the government and was a Pioneer Seed Corn Representative.
Betty was the Secretary for the Dallas City School District for over 32 years. She retired in June of 2008. She served as superintendent, high school and elementary secretary.
She now subs for the school and also serves on the Board of Education as Secretary.
When she was in high school, Betty worked for the County Extension Agent's at Moberly, MO.
She was also an aide for the summer school program at Westran Elementary and the following year was the secretary for the summer school.
She also worked for a Savings and Loan in Moberly.
After Betty and David got married, she worked for Hart Mobile Homes for 5 years and the Colony Shop and Bridal Loft in Fort Madison, IA.
Betty was appointed to two committees while working on the convergence for the high schools.
She has also served on the finance and athletic committees for the Board of Education.
She now serves on the personnel and policy committees.
One of Betty's most memorable vacations include going to Maui in the Hawaiian Islands. David had won the trip through Shottenkirk. They got to see a volcano, a rain forest and a lot of beautiful sites. She would love to go back again.
Also David's cousin lived in the Great North Woods in Wisconsin, Betty says she really enjoyed the weather there and loved watching the kids swim.
Betty's hobbies include reading and fishing. She is a member of the First Christian Church of Dallas City and she sings in their choir.
Betty says, "I enjoy doing the scorebooks for our athletic programs. I love seeing our students participate in the school's athletic and fine arts programs and how they progress through their school year."
---