The Hancock-Henderson Quill, Inc.
---
Meet Your Neighbor
by Susan Galbraith, The Quill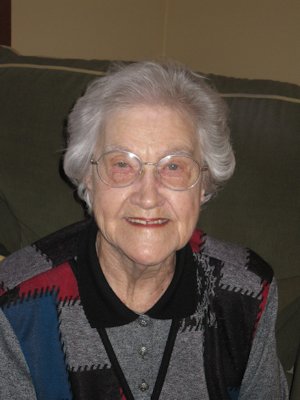 Meet Your Neighbor Reva Peterson of Stronghurst.
Reva is 94 years old and lives at Oak Wood Estates in Stronghurst.
Several years ago she was employed by the Stronghurst School District, for over 20 years, as a cook.
She said as she smiled, "I loved the kids and even today, when I see some of the former students they tell me I was one of the best cooks."
She was born (at home) and raised in the Lomax area and graduated from Crescent Grade School and Terre Haute High School.
Her parents were Gene and Mabel White.
Reva was the only girl in a family of 4 brothers, Hollis, Lyman, Gordon and Robert. She said, "I was a tomboy, not by choice. I rode horses, played horseshoes and did all kinds of boy things."
She married Ralph who was a farmer and they farmed in rural Stronghurst until 1972 when they moved to town.
Reva and the late Ralph have two children, Joyce (David) Gerst who live in rural Lomax. Joyce and David are both retired. Jimmy (Janice) who live in Stronghurst. Jimmy is a trucker and Janice is employed at J.C. Penny in West Burlington, Iowa.
Five grandchildren are Mike, Barbara, Janice, James Alan and Jennifer; seven great-grandchildren, Brad, Bobby, Ben, Genessa, Megan, Michael and Marlie; 4 great-great grandchildren, Caden, Michael, and twins Maeson and Marshall.
Reva is a member of Bethel Lutheran Church in Stronghurst where she is involved in Esther Circle and Bethel Lutheran Church Women.
When asked if she had any hobbies she said, "I loved taking care of Ralph". She said, "Oak Wood folks are so nice to me, the facility is so clean, I have a beautiful room and everyone is friendly."
She is a member of the Stronghurst Senior Citizens and loves playing cards and dominoes, whether at Oak Wood or at the senior center.
---