The Hancock-Henderson Quill, Inc.
---
Grand Re-Opening at Crystal Ball Roller Rink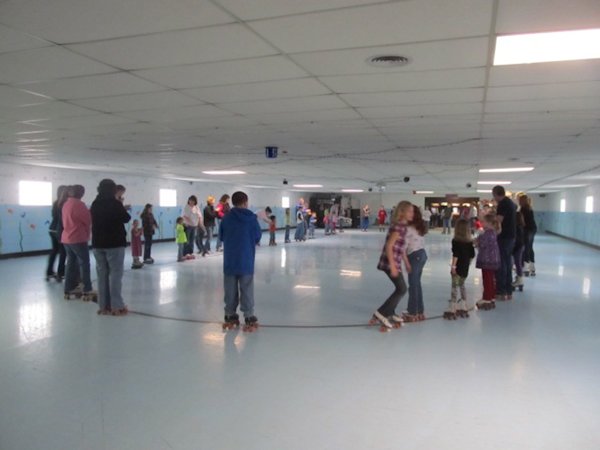 Carthage-- While a mild snow storm hit the area Sunday afternoon, inside the warm and bright facility of the newly remodeled skating rink, everyone was having a great time skating, and feeling a bit sentimental in their old favorite arena.
The ceiling was repaired, the floor was too, and the crowd of skaters just seemed to keep coming and coming.
The Crystal Ball Roller Rink in Carthage reopened Sunday, March 4th after their renovations were complete.
Owner Bonnie Bentzinger and her staff were delighted with over 300 skaters who came on this special afternoon.
The sound and light show "Cruzin" jazzed up the crowd with their upbeat music, complete with the front end of an old coupe and its headlights glaring straight ahead.
Last spring and summer, the roof had fallen into the bathrooms and game room, and the back corner of the skating floor was ruined leaving enormous remodeling bills for Bonnie to overcome.
But, with fundraisers and the generosity of the communities at her aid, enough money was raised to fix up the building.
Even with a late season opening, it didn't keep skaters away, enticed by "free" admission and nice door prizes.
Bonnie has found that all the work was worth the time and investment judging by the support of community, and the fun and laughter evolving since it's doors reopened.
---