The Hancock-Henderson Quill, Inc.
---
Meet Your Neighbor
by Christy Kienast-The Quill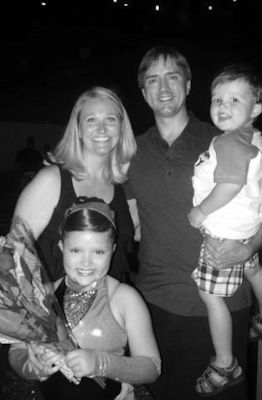 Meet your neighbors Kara (Jones) and Devin Burg of Huntley.
Kara is the daughter of Jerry and Linda Jones of La Harpe and was born and raised in La Harpe.
She has one brother, Harley and his wife, Sherri, of La Harpe. She has two nieces, Shelby, 16 and Karly, 15 and one nephew, Dugan, 13. Harley and Sherri are expecting baby Jones in November.
Devin is the son of Max and Jan Burg of Disco. Devin was born in La Harpe and raised on a farm in rural Dallas City.
He has two brothers, Travis and Jordan. Travis lives in Macomb and has three children. Mallory,15, Lauren, 10 and Jacob, 12. Jordan and his wife Ashley live in Charleston, South Carolina with their daughter, Sylvia, 6.
Kara and Devin both attended La Harpe schools graduating from La Harpe High School in 1996.
High school sweethearts, they married June 12th, 1999. They just celebrated 13 years together.
Devin graduated from Western Illinois University in 2000 with a Communications major, and Kara graduated from Western Illinois University in 2001 with a major in Early Childhood Education.
Devin and Kara have two children. Olivia Grace, 7, will be in the second grade at Mackeban Elementary school in Algonquin. She does dance at Center Stage Dance Academy and is in chimes and chorus at church. She practices the piano, plays softball and loves to swim. Elliott James is 2 and keeps Kara and Devin very busy. He loves tractors, cows and Toy Story 3.
Kara is the granddaughter of Pauline and the late Bobby Jones of La Harpe and the late Rollie and Betty Mosley.
Devin is the grandson of Glen and Esther Boyd of La Harpe and the late Wendell and Jane Burg.
Kara has taught 3rd grade for the last 9 years at Conley Elementary school in Huntley School District 158.
Devin has worked for the Mission Investment Fund of the ECLA for 8 years as the senior commercial loan analyst.
Kara and Devin are very active members of Shepherd of the Prairie Church in Huntley. Devin is the council treasurer and serves on several committees.
The family loves to come back to La Harpe and visit family and friends. Their children love the small town and the farm. Kara and Devin have fond memories of growing up together in La Harpe.
---