The Hancock-Henderson Quill, Inc.
---
Schedule of Events for "Quasquicentennial" Celebration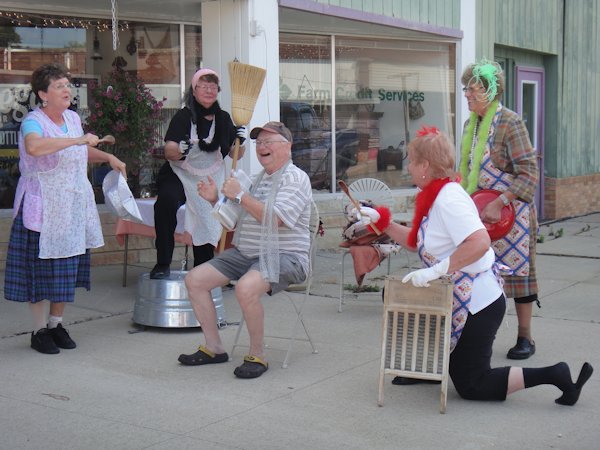 Stronghurst's Schedule of Events for its big "Quasquicentennial" Celebration is full of many fun activities to celebrate its 125th anniversary this month. There is music, food, a parade, games, art, and memorabilia on display and a talent show, some fun-runs and an evening community worship follwed by fireworks at dusk.
The schedule is as follows:
FRIDAY, JUNE 29 - PARK
4-7 P.M. Kiddy Barrel Rides
4-8 P.M. Amish Horse Drawn Rides
4:30-6:39 P.M. Food Vendors- Tri County Cattlemen, FOCC.
7 P.M. Talent Show - Stronghurst, You've Got Talent! Street Dance will follow the Talent Show.
SATURDAY, JUNE 30 - PARK
7-10 A.M. SAUSAGE & BISCUIT BREAKFAST, MAD MEN.
7:30 A.M. Registration For Fun Run "WALK INS".
8 A.M.-1 P.M. Special Commemorative Postal Cancellation Centennial and Quasquicentennial Book Sale.
8:30 A.M. 1 and 3 mile Fun Run
9 A.M.-4 P.M. Craft and Food Vendors (set up at 8:00 a.m.)
9:15 A.M. Registration for Kids Fun Run (ages 2-10) 1 mile.
10 A.M.- Kids Fun Run
11 A.M.- Children's Games, Dunk Tank, Bounce House, Banjo Players
1 P.M.- Opening of Brownie Troop 87 time Capsule.
2 P.M.- PARADE
3-5 P.M.- German Band plays and Amish HJorse Drawn Wagon rides, BNSF Engine for touring (TBD)
DOWNTOWN, JUNE 30
10 A.M.- 2 P.M.- Kevin Booton, professional artist, at the Senior Center.
10 A.M.- 4 P.M.- Legion & ByGones & Buds, local memorabilia on display.
SUNDAY, JULY 1
3 P.M. Recital by professional Tuba and Euphonium, Rex Martin at Presbyterian Church.
4:30 P.M.- Walk through history downtown Stronghurst.
SUNDAY, - FAIRGROUNDS
5:30-9 P.M. DEW'S DINER VENDOR & BIRTHDAY CAKE & ICE CREAM at "The Fort" building.
6:30 P.M. Hoot and Holler Games (Honey Calling, wheel barrow, shoe kicking, outhouse race)
8:00-8:30 P.M. Community Worship Service
AT DARK: FIREWORKS! by J & M Displays. Bring Lawn Chairs or sit in bleachers.
Go on the web and check us out on Facebook at Stronghurst Quasquicentennial or online at www.facebook.com/Stronghurst125th.
You don't need to be on Facebook to see this site and you can download Fun Run, Parade, Vendor, & Talent Show entries.
Come out and enjoy lots of free old fashioned fun and help Stronghurst Celebrate!
---