The Hancock-Henderson Quill, Inc.

---
Annual Cpl. Joshua Palmer Tribute and Remembrance Ride 2012
by: Christy Kienast and Carol Palmer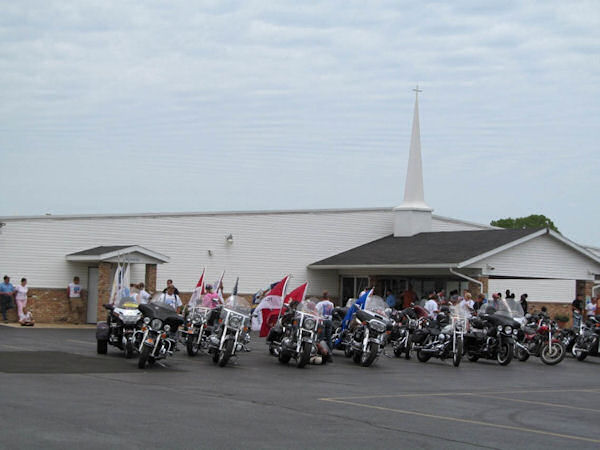 The 2012 ride started with the La Harpe American Legion posting the colors. Dennis Morton and Brian Blythe did a wonderful flyover and Melissa Burt sang the National Anthem. The opening prayer was given by Pastor Mike Hrabel of the Agape Church.
On this year's ride, there were about 100 motorcycles, approximately 15 cars and they stopped at 7 Honor Stops with a prayer, a verse and a family member or friend speaking about each soldier.
The first stop was in La Harpe to honor Cpl. Evan James, second honor stop was in Blandinsville to honor Cpl. Michael DeWitt. Third stop was in Canton to honor Spc. Christopher Bartkiewicz whose mother drives every year from North Carolina. Accompanying her this year was her daughter and granddaughter.
The stop in Canton was particularly amazing because the group got to see God's awesome rainbow around the sun.
The fourth stop on the 140 mile trip was in Macomb to honor Lt. Col. John Stein.
The fifth stop was in Colchester at the Veterans' Memorial to honor Spc. Ryan Carlock and Sgt. Cheyenne Willey.
A new stop this year was added in the Webster/Ft. Green area to honor Airman First Class Joseph Kent Spangler, the son of Dean and Sharon Spangler of La Harpe who passed away on May 28, 2000 while in Kuwait.
The last stop of the day was to honor Corporal Joshua Palmer. A 21 gun salute and the playing of Taps signified the end of the ride.
Back in La Harpe awaited a delicious meal and an auction full of wonderfully donated items.
This year they had the traveling memorial wall. There are 279 photos on the wall that honors all of our Veterans from Illinois who have given the ultimate sacrifice.
The traveling wall was started by a Gold Star father, Don Pannier, who travels all over the state to events to our honor fallen soldiers.
---