The Hancock-Henderson Quill, Inc.

---
Funny Car Camaro Coming To 14th Annual La Harpe Classic Car Show Reunion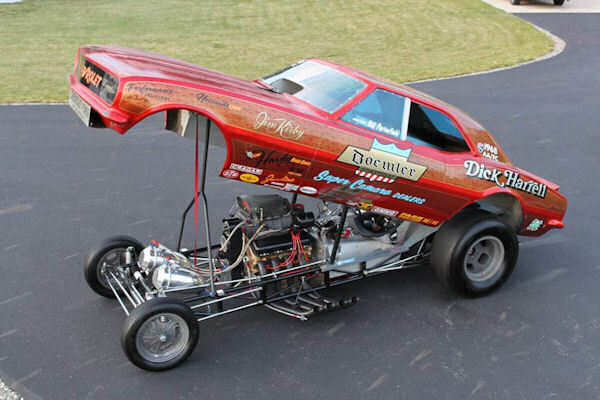 The Jim Kirby/Dick Harrell Funny Car Camaro To Be At The 14th Annual La Harpe Classic Car Show Reunion
One of the many attractions at the La Harpe Classic Car Show Reunion Saturday, August 4, will be the Jim Kirby/Dick Harrell 1968 Camaro AA/Funny Car.
This car was built for "Gentleman" Jim Kirby by Don Hardy in early 1968. Jim was very competitive and garnered several major victories.
The car was painted gold, sponsored by Boemler Chevrolet and ran a fuel injected 427 cu. in. Chevy.
Paired with Dick Harrell, the car was repainted and lettered to match, and a nitro burning, supercharged engine was installed by Dave Libby of Dick Harrell Performance Center.
Both men competed in several AHRA events and individual match races throughout the 1968 season.
Kirby chose to stick with Chevrolet power for the rest of his career. Later, his own "Super Rat" graphics and the "Chevrolet Power-Not an Imposter" statement on the rear panel were installed.
Sadly, Dick Harrell was killed in a racing accident in 1971 and Kirby's interest in racing began to fade. Jim ran the car in selected match races and events. He retired the car in 1972 and kept it safely stored inside.
In 2003 Matt Murphy (GMMG) acquired the car and restored the chassis. Friends convinced him to leave the body and paint in their "as found" condition...a candy apple red and gold lace paint job. Also, Murphy had the original 1969 graphics applied as a tribute to both Jim Kirby and Dick Harrell.
Bill Porterfield then purchased the car from Matt in 2009 and finished up a few cosmetic and power related items. He now has this piece of drag racing history tuned up on 100% nitro for cackle fests and, possibly an occasional burnout and launch...stay tuned!
Make sure you come see and hear this piece of drag racing history.
---