The Hancock-Henderson Quill, Inc.

---
Meet Your Neighbor
by Ali Postle, The Quill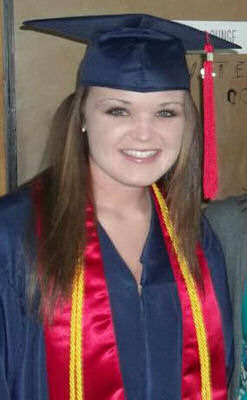 Meet your neighbor Sarah Nelson of Biggsville.
Sarah is a 2012 graduate of West Central High School.
Sarah was born on January 10, 1994 in Burlington Iowa. She is the daughter of David and Cindy Nelson.
David is the grain elevator manager at CGB Twomey Company.
Cindy is a medical assistant at Eagle View Health Center in Oquawka.
Sarah has one brother, Zach. Zach and his wife Jaylin have a son, Jaymeson who Sarah completely adores! Zach works at Case in Burlington, IA.
Sarah was very active in high school. Some of her activities included volleyball, Youth Coalition, Math Team, Scholastic Bowl, Class President, ICTM, and band.
She is currently employed at West Burlington public pool as a lifeguard and has worked there for two summers. Previously, she worked as a detasseler and a lifeguard at Fun City.
Some of Sarah's hobbies include spending time with her wonderful family and friends, four-wheeling, swimming, and watching fireworks. She loves watching Pirates of The Caribbean movies and buying new shoes.
Sarah's future plans include attending Southeastern Community College (SCC) in West Burlington, Iowa for two years and complete the nursing program. She then plans to transfer to the University of Iowa in Iowa City, IA, to obtain her BSN degree.
Sarah's favorite vacation memory was when she went with several of her friends to Mexico -Miranda, Mariah, Taylor, and Shauna. They took a cruise to the Cayman Islands and Cozumel where they went parasailing and zip lining. She says it was the best vacation she's had, so far!
---