The Hancock-Henderson Quill, Inc.
---
Meet Your Neighbor
by Christy Kienast-The Quill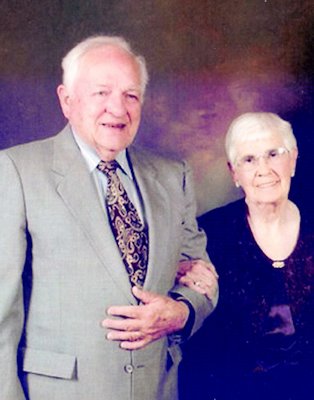 Meet your neighbors Barbara and Thomas Dewitt of Nauvoo; temporarily of La Harpe.
Barbara was born on January 25, 1929 in Fort Madison, Iowa and Thomas was born on September 19,
1926 in Springfield, Missouri.
Barbara graduated from Fort Madison High School in 1946. Thomas graduated from Bois D'Arc, Missouri High School in 1944. Thomas went on to graduate from Draughon's University in Springfield, Missouri in 1950.
Barbara and Thomas are both retired. Barbara previously worked for Social Services, Taney Company in
Branson, MO for 13 years. Thomas was the Order Processing and Control Manager for the Farm
Equipment Division of International Harvester Company for just a little over 32 years.
Thomas and Barbara were married on July 6th, 16 years ago.
They have 5 children. Anita and her husband Steve Appleton live in Jackson, Mississippi.
Daughter Linda Etchison lives in Nauvoo. Sons, Thomas DeWitt, Jr. and his wife Jacque live in Kansas
City, Missouri, Daniel and his wife Janet live in Independence, MO and Kevin Bigelow and his wife Chrisy
live in Long Beach, California. They also have 7 grandchildren and 13 great grandchildren.
Thomas was in World War II in Co. A 310th Bn. 78th Infantry (Lightning) Division in Germany.
Barbara and Thomas are both members of the Community of Christ Church in Nauvoo and they both
volunteer at the Community of Christ Historical Sites. Barbara also volunteers for the Nauvoo Food
Pantry.
The reason Barbara is at La Harpe Davier Health Care Center is because she had multiple breaks in her
left upper leg, broken ankle and toe. Her foot healed at an angle to prohibit walking. Surgery was
performed by Dr. Wheeler to splice the Achilles tendon. While searching for a care unit, the La Harpe
Davier Health Care Center was recommended.
The DeWitt's have found everyone to be so very caring and friendly, and the therapeutic unit is the best they have found. They believe they made a very wise choice in coming to La Harpe.
---