The Hancock-Henderson Quill, Inc.

---
Meet Your Neighbor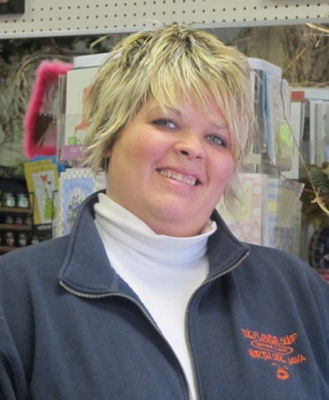 Jerilyn Miller of Carthage. Jerilyn was born in Macomb in April of 1971 and has lived in Carthage her entire life.
She graduated from Carthage High School in 1989 and went on to college in Quincy where she graduated with a certificate in Merchandising.
Jerilyn is the daughter of Eleanor "Sue" Mershon Miller and Jerry Miller of Carthage. Sue was originally from the Fountain Green area but has now lived in Carthage for 45 years. Dad, Jerry was a fuel truck driver for 35 years, but is now retired.
Jerilyn has two sisters, Cindi Knowles lives in Carthage with her husband Chuck. She is a payroll clerk at Memorial Hospital in Carthage. She has one son Jesse and a step son Jeremy (Danielle) Knowles.
Sister Pam Huston also lives in Carthage and is an RN for Sherrick's Home Health of Carthage.
Together she and her husband Pete have one son, Kaden Huston. Pam has one step-son Kyle and a step daughter, Brady. Kyle and his wife Renee have a daughter Aubrey.
Jerilyn is the granddaughter of Lorna Franzen, of Carthage. Lorna used to be a switchboard operator in
Carthage. Her maternal grandparents were Dale and Mabel Mershon of Fountain Green. Grandpa
Dale worked at Hemp's & Co. (later King Seely) in Macomb and was a farmer. Grandma "Dale" as she
was fondly called was a housewife and later worked as an aid at Memorial Hospital. Grandma Dale was
also one of the best Quilters around. She made quilts for all of her grandchildren.
Jerilyn also has seven "nieces" and two "nephews" that she considers her own. These are children of
very close friends. Alexis, and Alivia Smith are from Carthage. Riley, Makenna, Keegan, and Delainey
Vacko are from Plainfield. Spencer Smith and Wesley Smith are both from Carthage.
Jerilyn has two dogs. Calley, named after her favorite flower, the Calla Lily. Calley is a Rescue dog and is 10 years old. Jasimane or Jazz as she is called is also a Rescue dog and is 7 years old.
Jerilyn is the owner of The Flower Shop in Carthage. She has been the owner for the last 7 years. She has been around flowers most of her life. She started working at the Town and Country Flower Shop
while still in high school. She started working at the Flower Shop for the previous owners, Becky and
Karen in 1993. She worked for them up until 1999 when she went to work for Debi's Blossom Shop in
Macomb. Jerilyn worked for Debi for 2 1Ú2 years before coming back to the flower Shop in 2002. She then
worked for Melissa Cook until she bought the Flower Shop in May of 2004.
One of Jerilyn's best memories is the Flood of 1992 in Carthage. She worked in Keokuk, IA, at the time, and her bosses would not believe her until they saw it on the news. People were racing their boats through the four way stop. And she remembers there were 12-15 ft sprays of water going over the spillway.
Some of Jerilyn's favorite memories include taking family vacations to Florida to take the nephews to
Disney World and to see the ocean. They took Jess in 1993 and Kaden in 2004. Her biggest
accomplishment is The Flower Shop.
In her "spare" time she loves to spend time with the nephews and "nieces", going to their events and just spending quality time with them. And of course "The Flower Shop".
---