The Hancock-Henderson Quill, Inc.

---
Meet Your Neighbor
by Susan Galbraith, The Quill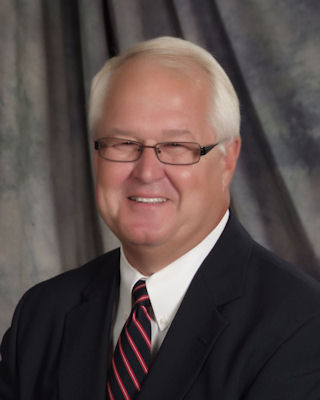 Meet Your Neighbor Richard Lutz of rural Biggsville.
Richard started part-time in the insurance business in 1980 and opened Bi-County Insurance in 1985. In 2000 he and Susan Higgins founded Western Illinois Title Company.
Bi-County has two insurances offices to serve their customers, one in Biggsville and one in Monmouth.
Western Illinois Title has four offices with thirteen employees. Their offices are in Biggsville, Monmouth, Galesburg and Cambridge.
In 1973 Rich received his bachelors in History and Physical Education from Western Illinois University in Macomb.
In 1973 Rich taught History, P.E. and Health at Tri-Valley Elementary School in Gladstone and previously was at Burlington High School four years teaching elementary P.E. and Assistant High school football coach.
He was born in Chicago and raised in Round Lake.
He is a licensed securities and insurance agent. Richard is also a Dave Ramsey counselor and will begin his 3rd session of Dave Ramsey's Financial Peace University at the Biggsville Library on January 17. Interested persons can register on line at daveramsey.com.
His wife, Rosemary, passed away in 1999. They have three sons. Michael (Courtney) who lives in Chicago. Michael is employed by Morton Salt and Courtney is a marketing representative for S. P. Richards. Michael and Courtney are expecting Rich's grandchild in February of 2012. Tyler (Tiffany) lives in Coal Valley. Tyler is an attorney in Geneseo and Tiffany is a marketing representative for an equipment company. Nathan lives in Sycamore and is a computer technician for Insurance Software Company. His girlfriend, Maggie, is a marketing representative for Office Depot.
He is an elder at the Stronghurst Presbyterian Church and associate treasurer.
His hobbies are playing golf.
Special vacations are those taken, every other year, are to Cabo San Lucas.
When asked what he enjoyed about the insurance business Rich replied, "Taking care of the customers and making sure everyone gets the help they need. Not only when purchasing but when they also have a claim. We help with everything from deer crashes to home and community fires."
He is a member of the Biggsville Lions Club, President of the Biggsville Preservation Group (Hotel Lynn), past president of the Union High School Board for eight years and served four years on the County Board.
---