The Hancock-Henderson Quill, Inc.

---
Hamilton Fire Claims Life Of Infant
story/photos by Ryan and Christy Kienast, The Quill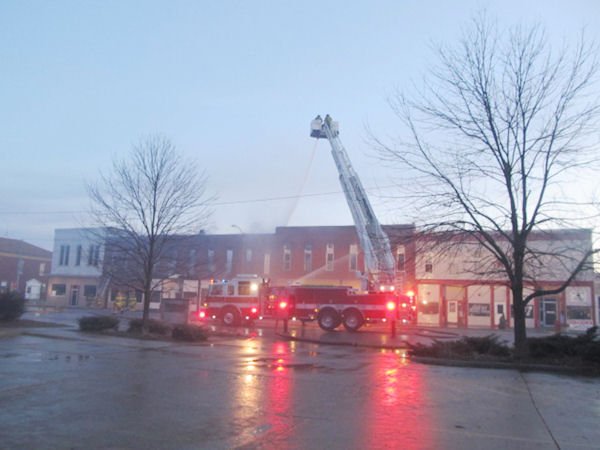 A devastating fire tore through several adjoining buildings on Broadway Street in the city of Hamilton on Tuesday, January 3, 2012 around 2 p.m. Nearly 20 people were rescued by volunteers, but sadly, a 4 month old infant lost its life.
The building, located at 944 Broadway was a multi-unit apartment building. The fire is believed to have begun in the upstairs rear apartment in which the tiny victim shared with the mother and siblings.
Hamilton Police Chief Walter Sellers said "the mother awoke to find the apartment full of smoke." She was assisted by others to get herself and her 2 and 3 year old children out, but crews were unable to get to the infant in time due to heavy smoke and fire.
The Hamilton fire department was assisted by the Warsaw, Carthage and Keokuk fire departments, as well as the Illinois State Police, the Hancock County Sheriff's Office and several ambulance crews.
Resident and business owner Chastity Wittler said she received a call from her husband at her place of employment to tell her that the building they owned was also on fire.
While keeping in contact with him throughout the afternoon she learned that he helped get some of the residents out of the burning buildings.
She and her husband are the owners of Mac's GS and the Kenna Center at 972 Broadway.
Part of the adjoining buildings collapsed just shortly after 5 p.m. sending debris out onto the roadway from the windows of Wayne's Appliance, and fireman running from the fire house that is just a mere block away from the scene.
Later in the evening the back wall was collapsed by officials as it was deemed unsafe.
Several other businesses received major smoke and water damage.
The identification of the infant had not been released as of this writing and the fire is under investigation although officials don't seem to suspect any foul play.
---