The Hancock-Henderson Quill, Inc.

---
Meet Your Neighbor
by Susan Galbraith, The Quill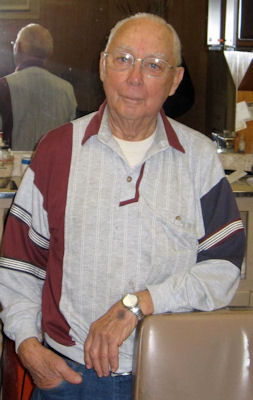 Meet Your Neighbor Delbert Blindt of Biggsville.
Delbert has lived in Biggsville for 51 years, barbered 55 years and now retired.
When he was younger he farmed with his parents in West Point, Iowa.
He enlisted in the Marines for two years and was stationed in California and Japan.
He was born and raised in the West Point, Iowa area and attended high school in West Point at St. Mary's.
His parents, Harry and Ida Blindt, are deceased.
He has five brothers, Edward, Adrian, Rolland (deceased), Richard (deceased) Kenneth, and one sister, LaVern.
He and his bride, Bertha, have been married for 55 years. Bertha previously was employed at Tri-Valley Elementary School in Gladstone and at Country Fun Restaurant for several years.
He and Bertha have three children, Michael (deceased), Mark who lives in Biggsville and is employed at Winegard. Michael has a special friend, Theresa Nesbitt of Biggsville. Christina (Jerry) Carnes of rural Biggsville. Christina is employed at the ASCS Office in Stronghurst and Jerry is the owner of Country Auto.
He has eight grandchildren, Michael, Tyler, Cheyenne, Tiegan, Jason, Brenda, Scott and Noah.
He has 6 great-grandchildren, Max, Mason, Hannah, Aaron, Lily and Sophie; five step great-grandchildren, Dakota, Emily, Molly, Matthew and Lucas.
He is a member of Immaculate Conception Church in Monmouth.
He is a 45 year member of the American Legion.
In his spare time Del likes to help his kids work on their homes, spend time with his children and grandchildren and attend their school activities when possible.
When the kids were young he and Bertha used to take them camping. They visited the Black Hills, Wisconsin Dells and Missouri.
When asked what he had enjoyed about barbering for those 50 plus years, he replied, "The people and all those stories I heard in the shop and the gossip."
---