The Hancock-Henderson Quill, Inc.

---
Heat Bowling Team Find A Cool Breeze Of Generosity After Fire
After what has been a bag of coals for a Christmas present for the West Central Heat girls' and boys' bowling teams when a fire destroyed their home bowling center and much of their equipment, Coach Sue Rothzen is feeling a cool breeze of generosity coming to their rescue.
The Bowling Foundation and the Youth Education Services (YES) Fund already have sent the team new bowling balls to help offset the loss.
A fire in the early hours of December 24, 2011, destroyed Charlie's Country Fun bowling center near Biggsville along US 34.
The 10-lane center, which opened in 1978, was the home to the West Central High School bowling team.
Sue Rothzen, head coach of the boys' and girls' teams at West Central, said 11 of the 22 bowlers on the team lost equipment. The loss included bowling balls, bowling ball bags, shoes, and other equipment.
One of the players received her first new bowling ball as an early present from her parents, but it was lost in the fire.
Rothzen said, "A good reactive bowling ball costs about $175 or more. To have a ball drilled, that has not been purchased from the pro shop you are dealing with, could cost upwards of $50.
"Sales reps from Storm, Ebonite, and Dexter shoes have been contacted and Ebonite thought they would be able to send demo balls," she said.
Rothzen was pleased at so many people's eagerness to help.
"Derek Sapp at Arrowhead Bowl in Keokuk, IA has offered to drill bowling balls at a very reduced rate and Tim from Tim's Pro Shop in Landmark Lanes in Peoria offered to set aside one entire Sunday to drill ONLY WCHS balls.
Rothzen said "This was big loss for our team as nine bowlers had 100% loss, and three of my high school bowlers were employees of Country Fun."
As far as a new place to bowl, Rothzen is looking at either Burlington, IA or Roseville to continue practice which they hope to resume by next week.
"My boys have Sectionals on January 21 in Alton. The girls have Sectionals on February 4 in Galeburg. We must go on and go on quickly!"
Locally, a bank account has been established at the Biggsville Banking Center to help the West Central Bowling team.
Then as far away as Arlington, Texas, The Bowling Foundation and the YES Fund through USBC, quickly responded, sending the team 16 (15 lb.) bowling balls Tuesday to help replace what was lost.
"I can't thank The Bowling Foundation and YES Fund enough," Rothzen said. "Here it is a holiday, and they still have come through."
West Central High School, which has an enrollment of just 307, started its bowling program seven years ago.
The boys' team has qualified for the Illinois High School Association State Bowling Tournament the last two years, and Rothzen, who started the program, earned the IHSA Boys Bowling Coach of the Year honor last season.
"The Bowling Foundation and the YES Fund hope these bowling balls can somewhat compensate for the loss," said Chad Murphy, International Bowling Campus Managing Director of Youth Development.
"It is a devastating situation, since the community and the team lost its bowling center."
Rothzen said Kingpins Bowling Center at Fun City in Burlington, Iowa, has offered to let the teams practice at its center, which is 12 miles away as well as Roseville Lanes which has 4 lanes.
As the West Central High School boys' team gears up for the Regional competition in less than three weeks, they are under the heat in more ways than their school name.
Fans near and far are not only helping out Coach Rothzen and the Heat, but also will be watching and rooting for this small school in Midwestern Illinois to heat up the lanes at Regional once again.
[The Bowling Foundation is the charitable arm of the Bowling Proprietors Association of America (BPAA) and the United States Bowling Congress (USBC).
Go to bowlingfoundation.org to learn more about the foundation. The YES Fund, a joint initiative of the BPAA and USBC, is made possible by many of the leading brands in bowling.
To make a contribution to the YES Fund, contact Chad Murphy at chad@bpaa.com or you may call 817.385.8469. Go to BOWL.com/yesfund for more information.]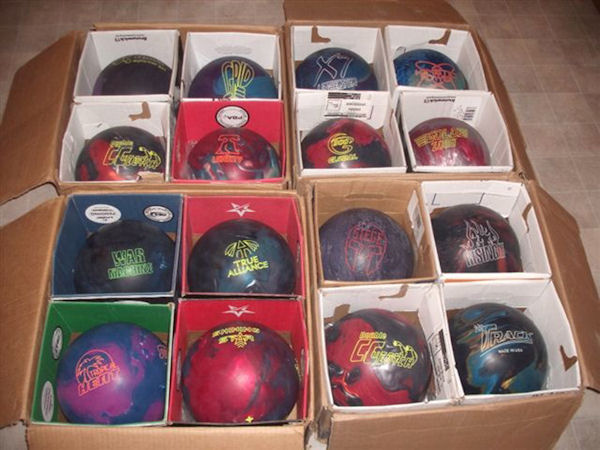 These 16 brand new bowling balls arrived at Coach Sue Rothzen's house to help the West Central Heat Boys/Girls Bowling Team get back on their feet. Over Christmas, a fire destroyed the Heat's home bowling center, Charlie's Country Fun, along with much of the Heat's bowling gear.
---