The Hancock-Henderson Quill, Inc.
---
Meet Your Neighbor
by Susan Galbraith, The Quill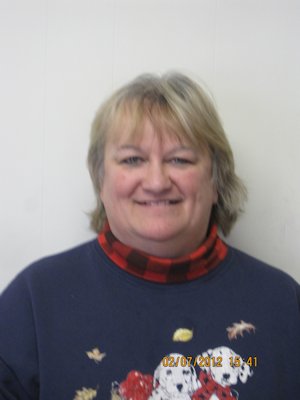 Meet Your Neighbor Doris Gillette of Monmouth.
Doris has been the owner of Dew's Diner in Smithshire for 4 1/2 years. She previously was in Little York with Dew's for three years and before that was bakery manager and decorated cakes at County Market for 2 1/2 years.
She was born in Gary, Indiana and raised in East Gary, Indiana.
In 1974 she graduated from La Porte High School in Indiana.
She and hubby, Dewey, have been married for 13 years. Doris said, "Dewey is my main backup at Dew's and I don't know what I would do without him."
Her parents are Lois Jean Fusko and Ted (deceased). Lois is retired and lives in Pigeon Forge, Tennessee.
Her parents owned an auction house where they wholesaled merchandise to flea markets. She said, "My mom and dad were very hard workers."
She has one brother, Ted (Dawn) of Riverview, Florida. Ted is a truck driver and Dawn is a stay at-home mom.
Two sisters, Karen (Larry) Kroon also live in Riverview, Florida where Karen is employed as a medical coder, Diane (Mike) Heath lives in Pigeon Forge and owns a resale shop.
Doris has three daughters, Jenny (Keith) Budd who live in Buffalo, IL where Jenny is a Wal-Mart manager and Keith is employed by the State of Illinois, Cassie Stephens lives in Smithshire and is a waitress/bookkeeper at Dew's Diner and Katy Unger lives in Little York and is a waitress/cook at Dew's Diner.
Her step-children are, Dewey Jr. (Davina) who lives in Goodfield. Dewey Jr. is employed at Tommy Haus Tire and Davina is a nurse. Two step-daughters, Kim who lives in Little York and is a cook at Dew's and Erin who lives in Monmouth and is employed at Dew's.
They have 20 grandchildren, Jeneva, Josh, Jacob, Demetria, Tamekka, Raven, Quincy, Chaz, Christian, Aryanna, Shasta, Dylan, Hannah, Andrew, Chrissy, Kindra, Logan, Jessica, Sydney, Aaron, Allison and Alex.
They have one great-grandchild, Amilee.
Doris is a member of The Living Light Tabernacle in Roseville.
In her spare time she goes antiquing and home decorating. "I like neat, unique and unusual things. We have a chocolate room, in Smithshire at Dew's where I have made the decorations, etc. At one time I sold fake cakes, sundaes and banana splits on E-bay."
Theme rooms decorate Dew's such as Elvis tables, Opie tables, Lucy tables and Andy Griffith tables. "When people come to dine they love to try different tables.
Some folks come and say they look forward to the delicious home cooking and meeting old and new friends".
When asked what she enjoyed most about being the owner of Dew's, Doris said, "I most definitely love the people. People say they feel like they are coming home when they are eating with us."
Doris quotes her husband who says, "You keep busy because you are at your best when you have a project going on!"
"A memorable experience was when I was in second grade. Our class visited the Bozo Circus TV show that was on WGN. I was picked out of the audience and won a grand prize which was stockings and a pair of Hush Puppy shoes! I will never forget that."
---