The Hancock-Henderson Quill, Inc.
---
Meet Your Neighbor
by Susan Galbraith, The Quill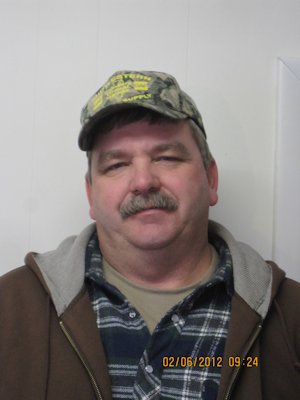 Meet Your Neighbor Quentin Peterson of Stronghurst.
Quentin has been a self-employed carpenter for the past 26 years.
He was born in Burlington, Iowa and raised in the Stronghurst area.
In 1982 he graduated from Southern High School.
He and his wife, Kristeen, have been married for 12 years. Kristeen is a West Central Middle School teacher.
His parents are, Lorraine, who lives in Stronghurst and is employed at Wilson and Associates and the late Gear Peterson.
He has one sister Karen (Rod), Nichols who lives in Stronghurst. Karen is a nurse in Macomb and Rod is retired from the railroad.
He also has four brothers, Jeffrey (Deb), who lives in Stronghurst. Jeffrey owns a mechanics shop and Deb is employed at Oak Lane Nursing and Rehab in Stronghurst.
Kenneth (Rhonda), lives in Biggsville. Kenneth is in the construction business and Rhonda is employed in Galesburg as an administrator at a Home Health Care regional office.
David is deceased and his wife Patty is a nurse in Knoxville.
Patrick (Janet), lives in Stronghurst. Patrick is in the construction business and Janet is a CNA at Oak Lane Nursing & Rehab.
Quinten and Kristeen have 3 children: Amanda (Jacob) Bielser of Brookings, Oregon, where Amanda is employed as a CNA, Boone Peterson of Gladstone and Tucker who is in 4th grade at West Central Elementary School. They also have 2 granddaughters, Dorothy (4) and Mallory (2).
Quinten and his wife are members of Bethel Lutheran Church where he serves as vice-chairman of the board and as an elder.
His hobbies are fishing, hunting and writing. He writes spiritual letters telling people about the Lord. He has sent approximately 160 letters a week for the past 2 years.
Popular vacations spots for the Petersons have been Yellowstone, Disney World in Florida, and visiting their daughter and grandchildren in Oregon.
When asked what he enjoyed about being self-employed he said, "Being able to take time off when I want to and meeting different people every day."
He is a member of the Stronghurst Booster Club, Bethel Lutheran Men's Fellowship and involved in several Bible studies.
He said, "Two years ago I got a call from the Lord to tell people to get back to the truth instead of what the world tells them."
"In January of this year I was blessed to be a small part of a mission trip to Joplin, Missouri. I say a small part because the little that I helped with paled in comparison to so many others that put their lives on hold, listened to the Spirits call, and went."
"So many others committed hundreds of hours and even their own resources when they heard the Lord say, "Whom shall I send'."
"Dozens of churches pooled resources as well as countless individuals to prove that the voice of the Almighty is still heard today."
Quentin said, "This tornado was considered a disaster, and you would have to see the devastation first hand to be able to take it all in. So many lives lost, thousands more changed forever. But, what is a disaster anyway, except an opportunity for unity, serving and building new relationships."
"I went to Joplin to install doors and kitchens, but instead, found humility and understanding of what God's plan for us is all about. That was the real building project there."
"I met fine people that I will never forget, and have began bonding with. I've seen men and women's lives being change through this "good thing'. Some were looking for God, some rekindling the love for Him that they once had, but had misplaced somehow, all wanting to show the same compassion for this family that they themselves have felt at one point in their own lives.
"I guess the world saw a house being built, but I saw a sanctuary in a war-torn region, where believers of all faiths came together to acknowledge just how great our God really is! And He is!!
---