The Hancock-Henderson Quill, Inc.
---
If Walls Could Talk
by Christy Kienast, The Quill
If walls could talk, the walls at 108 East Main street in La Harpe would have a lot to say.
The building has changed hands numerous times over the last 100+ years, the last with current owner Rod Myers of La Harpe.
Rod runs his insurance business, Hometown Insurance out of the downstairs storefront after purchasing the building in 1999.
Rod added a new partner to his business in January of this year. Casey Yager of Colusa came to La Harpe to help Rod and his secretary Jeri Bennett.
Casey is currently in the process of renovating the upstairs apartment at 108 E. Main. He has stripped the walls of their plaster and found the original brick walls underneath. On part of one of the walls they found the inscription "Rick R. Epple, carpenter, age 22 years , Good man." and "Gayle S. Epple, carpenters wife, 1967, good woman."
Casey is making an "open concept apartment, using the original floors and the brick walls." He loves the view of Main Street and says "I am hoping to get the apartment done so I will be able to live in it."
In 1891 the building was Magers Restaurant.
From 1893 to the 1930's it was owned by Ed Olson and known as Olson's Restaurant. During this time it was also known at the A.M. Karl Restaurant and it was also owned by James Fortney.
In the 1930's it was the Hamilton Grocery, Gus Stegman Meat Market, Norman Benjamin Meat Market and W.J. LeForte Meat Market (according to the newspapers at that time).
In 1941- it was named Red's Caf' by owner Laurence White and somewhere between 1941 and 1948 it became the M&M Coffee Shop.
In 1948 it was the Victory Caf' owned by A. H. Bundy who sold it to Chet Garrett and then it became the Midway Caf' when Elda Harris bought it.
In the 1950's it became St. Clair's Coffee Shop and Smock's Caf'. In 1958 it was once again the Midway Caf' owned by Viola Hainline.
In the 1960's to 1970's it was Mid's Caf', once owned by Mid Dunham. The then current owners, Mr. and Mrs. Chris Epple sold it and it became Sharon's Caf' in 1970 with owners, Sharon and Chet Lovitt.
In 1980-1984 it was Russells Jewelry with owner, Bob Russell and in the late 80's it was an arcade ran by Jerry Brown.
When the arcade closed, there was an apartment downstairs as well.
In 1999 Rod Myers bought it from Bob Russell and it became Hometown Insurance.
In 1910 there was a law firm upstairs and from 1914 to the 1930's Dr. Beacon was upstairs.
In 1941 the Modern Beauty Shop owned by Lillian Porter and Bette Tilton was upstairs as well.
Bob Russell had an apartment upstairs when he owned the building in the 1980's .
Casey, Jeri and Rod would like to find out any more information on this building and especially Rick and Gayle Epple.
If anyone knows anything please give them a call at 217-659-3331.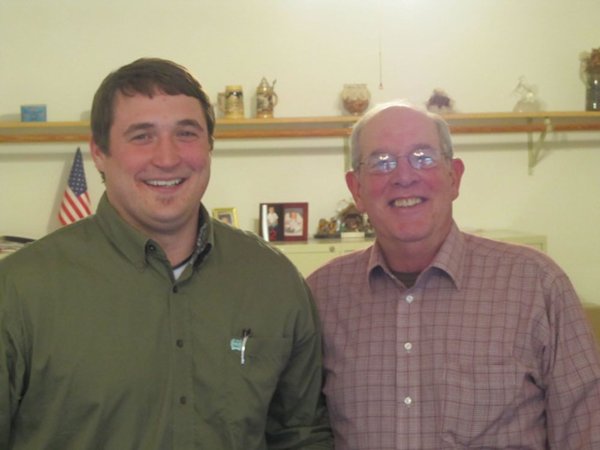 Casey Yager and Rod Myers. Casey is taking over the business of Hometown Insurance, and Myers is working with him.
---