The Hancock-Henderson Quill, Inc.
---
Meet Your Neighbor
by Susan Galbraith, The Quill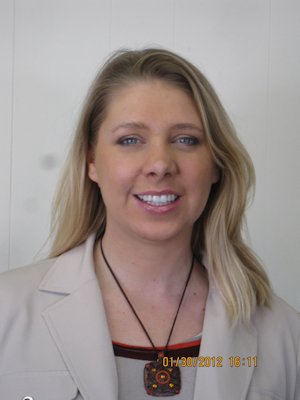 Meet Your Neighbor Miranda Cole-Webster of Lomax.
Miranda is Tourism Coordinator for the Illinois Institute for Rural Affairs Americorps VISTA office in Stronghurst. Tom Doran is her direct supervisor for HCEDC. (Henderson County Economic Development Committee)
She previously was employed by Howard Johnsons in Burlington, Iowa as an event coordinator and also in New York, Arizona, and Oahu, Hawaii. She interned at Myrtle Beach, South Carolina in the program of Resort Directors.
She was born in Monmouth and raised in Gladstone.
In 1997 she graduated from Union High School and continued her career at Southern Illinois University in Carbondale earning her B.S. in 2005, in Recreation and Tourism.
She and Andrew (Andy) have been married 2 years. Miranda said, "He is a pretty fantastic husband and I love being married to him." Andy is employed as a sheet metal journeyman at Frank Millard in Burlington, Iowa.
Her parents are Ed and Karen Cole of Gladstone. Her father is employed with Cole Implement in Media and Karen is employed at Bridgeway in Monmouth.
She has two brothers, Tanner (Courtney) who live in Jacksonville with their children, Carson, Morgan, Alexandria and new baby girl, Josephine, Jake who lives in Cedar Rapids, Iowa and a sister, Katie, who is a student at Illinois State University in Normal.
She and Andy attend Lomax Christian Church.
In her spare time she enjoys all crafts. In fact she said, "I made a table out of a French door." During Halloween she and Andrew decorate their yard by putting wooden shelves with names of their friends on them, in the front yard. Miranda designs the shelves and her husband makes up riddles to put on them. It might be interesting to stop by at Halloween time and see their works of art!
At the present they are doing some remodeling work and Miranda said, "It is great bonding time with my hubby."
When asked what she enjoyed about her position as Henderson County Tourism coordinator she said, "I enjoy getting to meet all the people and I have learned to have a greater appreciation for the area, especially since I grew up here."
Since living in Lomax she has started and organized the Farmers Market but has since turned it over to someone else. She said, "Lomax is an awesome town."
---