The Hancock-Henderson Quill, Inc.
---
Meet Your Neighbor
by Susan Galbraith, The Quill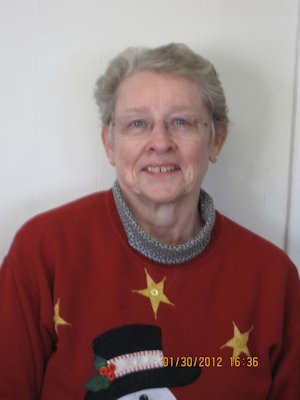 Meet Your Neighbor Sandy Lefler of rural Carman.
She and Don, her husband of 49 years, are retired from farming. At one time they had their own business making stabilizers for animal traps. Stabilizers (holders) were designed for 110, 220 and 360 conibear traps and they also built live cage traps.
Sandy was born in Monmouth and raised in the Carman area.
In 1961 she graduated from Stronghurst High School.
Her parents are Agnes Shaner of rural Carman and Charles (deceased).
She has one brother, Wendell Shaner, who is a farmer.
She and Don have two daughters. Lori (Daniel) Collins of Danville. Lori is a supervisor for Blue Cross/Blue Shield and Daniel is retired from maintenance work and Cheryl, who lives in Galesburg is manager of Knox County Housing Authority.
They have 2 step-grandchildren and 4 step-great-grandchildren.
Sandy is a lifetime member of Bethel Lutheran Church in Stronghurst where she serves on the evangelism committee, vice-coordinator of Bethel Lutheran Women and a member of Esther Circle.
Her hobbies are reading, applique, baking and cooking. She also loves to go fishing.
On their 40th anniversary they traveled to Yellowstone National Park and stayed overnight at a lodge. She said, "We stayed, one night, in a beautiful luxurious cabin!" They also attended a trapping convention in Idaho on their way to Yellowstone.
In 2001 she was instrumental in bringing the "Relay For Life' to Henderson County. Sandy said, "I had an excellent committee to help me."
She is a 22 year active member of the American Cancer Society. In 2006 she was selected as an ambassador to the Celebration on the Hill in Washington, D.C. where she met people from all over the world.
Sandy said, "I made lasting friendships. I was able to bring the message to politicians to fund and fight cancer research."
She also attends the Chicago State Annual Cancer meeting.
She is a director of the Stronghurst Community Corporation that helps raise funds to disperse within the community and is chairman of the township cemetery board. The Stronghurst Community Corporation donates to various organizations throughout the year. They have helped the Farm Bureau, ASCS and other organizations in the community.
When asked what she has enjoyed about her involvement in the American Cancer Society she said, "I enjoy seeing the strides made in reaching cancer research which is definitely making a difference."
---