The Hancock-Henderson Quill, Inc.
---
Meet Your Neighbor
Meet your neighbor, Richard Chockley, of Stronghurst.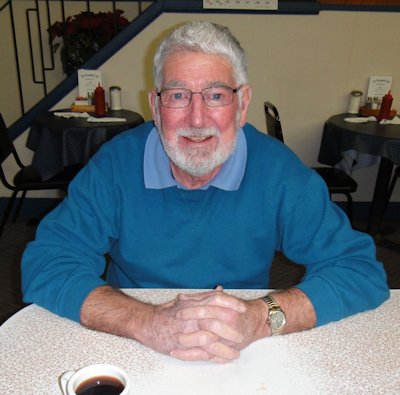 Richard was born on August 5th and raised in the Augusta area near Camden. Him and his wife, Sharon now live in Stronghurst. They have two children, Eric (Peggy) Chockley and Sharie (Bob) Harden, both of Stronghurst.
Now retired, Richard worked for the Western Illinois Electric COOP in Carthage for 36 years. There he was a lineman and went on many area service calls throughout Henderson and Hancock counties.
Richard was one of four children. He has one brother and two sisters. A homemaker of seven children, one sister is Mary (Keith) Twaddle, of Carthage. June (Harold) Hendrickson of Marcelline was also a stay at home mother. She worked a few small jobs and also baby sat.
Richard's grandparents were Henry and Mary Chockley, of Rushville.
He attended Augusta High School, and did not pursue college.
Richard worked at Motorola in Quincy for five years, where he tested radios for cars and homes. He then pursued a job in Kokomo, Indiana at the Chrysler Corporation. Here he made parts for automatic transmissions.
Richard is a member of the Stronghurst Christian Church.
In his spare time he enjoys traveling within the country on random road trips with his wife, Sharon. They like to get up and go whenever they can. He also enjoys spending time with his family.
When asked about family vacations or traditions, he said "We farmed, so there wasn't much time for that." He did remember going to New Mexico when he was eleven years old to visit their aunt. "The mountains were beautiful," he said.
Richard has an exciting future. He cannot wait to meet his first great grandchild.
---