The Hancock-Henderson Quill, Inc.
---
Meet Your Neighbor
by Christy Kienast-The Quill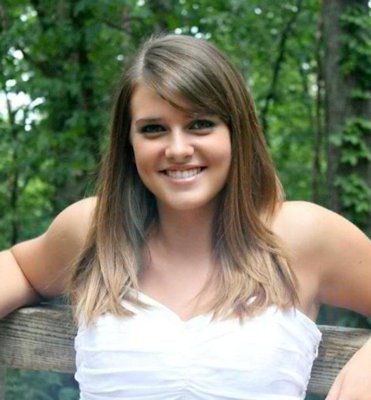 Meet your neighbor and Illini West Senior, Mikaela Kamryn McKenney of Carthage.
Mikaela was born on November 15
th, 1994 in Macomb. She is the daughter of Edward and Janet McKenney. Janet works as a Lab technician at McDonough District Hospital and Ed is a doctor at MDH and has his own office Hamilton, Illinois as a family practitioner.
Mikaela has on sibling, Holt McKenney, 16 and a junior at Illini West High School. Mikaela is the granddaughter of the late Agnes Holtkamp, who recently passed away on November 7, 2012.
Mikaela is very active in school activities; she is currently involved in Varsity Volleyball and is a Varsity Basketball Cheerleading, the Vice President of the State of Illinois FBLA, the President of the Western Area Conference FBLA, and President of the Illini West FBLA Chapter. She is also involved with band, drama club, international club, LOOP (Leaders Orienting Our Peers), SADD, Hancock County Teen Court, Heart Ministry, CHWC (Catholic Heart Work Camp), VolunTeen (help work at the hospital/nursing home), and Youth Leadership Academy.
One of Mikaela's favorite vacation memories was when the band went down to Disney World. Their teacher had a very strict rule about boys being in the same room as girls. She heard that there was a co-ed room so she rushed over to check it out. The kids wouldn't open up, so the teacher said it was a pizza delivery guy and they slightly opened the door and the teacher rammed the door down. Another vacation memory would be the first time she was to go to CHWC. She dreaded it, and she cried and begged her mom to not make her go. But after she got there, she didn't want to go home nor did she make much contact with her parents while gone. CHWC has been one of the most fun weeks of the summer. Mikaela also tends to have a lot of parties at her house over New Years, after football games or on just random weekends. She says she will miss that a lot when she is gone.
Mikaela says volleyball was a major highlight of high school because when she was playing volleyball, she was happy and never wanted to stop playing. Mikaela says what she will miss most about high school is that she won't be able to see everyone everyday like she does now. Another favorite memory of her high school years is her and Jessica Fox's Sweet 16 birthday party.
Mikaela's hobbies include hanging out with friends, going to movies, volleyball, going to school activities, being around people and just being active in anything.
Mikaela says if she could relive high school again, she definitely would. She says " I know it's not over yet, but I really have enjoyed high school and what it has all taught me. "
Mikaela's plans after graduation are to attend a four year college such as St. Ambrose University or Western Illinois University, although her major right now is undecided.
---