The Hancock-Henderson Quill, Inc.
---
La Harpe School Christmas Show Cheery
-by Christy Kienast/The Quill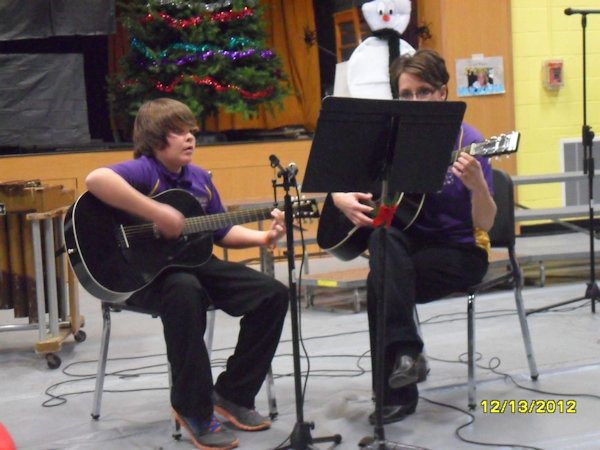 The Christmas spirit was once again brought to La Harpe last week if you attended any of the La Harpe Elementary and Junior High Christmas programs.
The week began on Tuesday night with the Preschool program and Santa's visit to the class.
The Junior High classes performed on Thursday night at 7:30 pm. The evening began with Chloe Ravenscraft doing a solo of "Titanium.
The 5th grade beginning band played four short songs for us, "Merrily We Roll Along", "Good King Wenceslas", Jolly Old St. Nicholas" and "Jingle Bells".
The Jr. High band accompanied by 5th grader Logan Little on saxophone played "Deck the Halls with Bones and Saxes"!
After this the band was split in to four groups for their next performances. The clarinets played "Angels We Have Heard on High", the Saxophones played "Up on the House Top". Next the Brass played "Silent Night" and Jacob Timmerman did a duet with Mrs. Mencel (his partner happened to be sick, so she stepped in), playing "Greensleeves".
The Jr. High concert band performed "The Runaway Sleigh". The 5th grade boys sang "Grandma Got Ran Over by a Reindeer" with Hunter Kienast as "Grandma" and Dalton Endres as "Santa".
The Junior High Concert Choir sang "I Love Christmas- Medley" with Mackenie Duffy and Austin Torrance singing solos.
To end the night the 5th grade girls sang "Where is the Peac`e? " During this the lights were turned off and a performance was done in the dark with black lights.
The last performance of the week was on Friday afternoon with the La Harpe elementary program "the Harmony of the Season".
The Kindergarten thru 4th grade sang "I hear those Jingle Bells" and the first thru fourth grade classes sang "Dona Nobis Pacem".
The Kindergarten sang "Up on the Housetop" and "Ho! Ho! Santa Claus".
The first grade did an adorable performance of "Penguins and Polar Bears" wearing penguin and polar bear hats. The second grade sang "Rules for Christmas", the third grade sang "Winter in the Country".
The fourth grade sang " A Perfect Winter Day!" and "Winter Joy/Ode to Joy".
At the end of the program the kindergarten thru fourth grade class sang "Shalom" with the participation of the audience.
Mrs. Mencel did a wonderful job on the Christmas programs this year for the Junior High and Elementary school. Hats off to you!!
---