The Hancock-Henderson Quill, Inc.
---
A New Tradition Begins In La Harpe-A Country Christmas
BY CHRISTY KIENAST - The Quill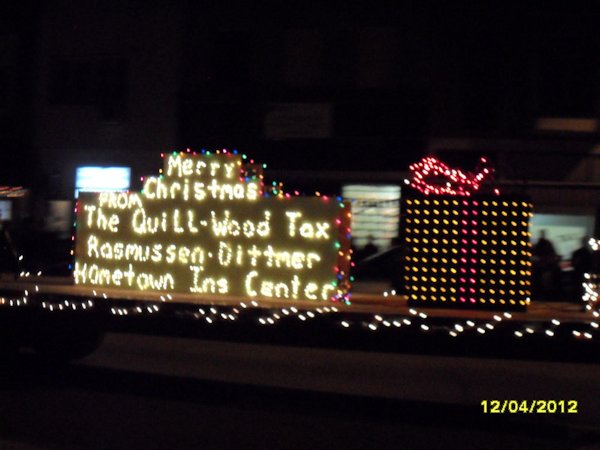 On Tuesday, December 4th the City of La Harpe turned into a Christmas wonderland for their first and (hopefully annual) Country Christmas celebration.
The event, which was organized by Casey Yager and Ryan Kienast among several other key people, was a huge success in its first year.
The Country Christmas celebration consisted of business open houses with refreshments such as cookies, cupcakes, and some even served chili, giveaways, and fun.
There were horse-drawn carriage rides from Paul Bishop and his wife TJ of Burlington, IA.
TJ said, "The weather, the people and the event were all perfect. We've been invited back for next year and we're already looking forward to it."
Although the carriage route had to be shortened because of the length of the line of patrons waiting to ride it, everyone still had a great time.
There were also barrel rides for the kiddies, turkey giveaways for the adults and a vendor blender located in the Masonic Lodge and the American Legion.
The Illini West art students had art set up in the lobby of the First Christian Church and the Union Church Bell Choir had their practice during the event.
The Methodist Church held their annual Festival of Trees and Sweet Shoppe on this night as well.
Santa and Mrs. Claus arrived during the Lighted Christmas Parade on one of the 54 floats. The parade was a huge success, even more than the organizers had planned. Pictures were taken at the North Pole (or the Sharpe shop) by Tyler Sharpe and the line for that was probably half a block long a times.
The town itself looked beautiful with more residents decorating their businesses and homes than in past years. The city's park looked beautiful especially with the Memorial Tree, the Veterans' Tree and and the bulbs for Mikhaila Tree.
The money from the memorial tree went to the Community Gift tree at the bank and a total of $70 worth of presents was bought for the tree. The event was able to raise $120 for the American Legion and the total donated towards the Palmer family will be close to around $200.
The organizers are already making plans and taking notes for next years, Country Christmas. Ideas for a lighted float contest, and house lighting contest among others are floating around for next year.
The evening ended in the city park with a prayer service by Pastor Jim Clayton.
The evening was an all-around great success and everyone is looking forward to next year's event.
---