The Hancock-Henderson Quill, Inc.
---
West Central Girls Finish In Elite 8 At State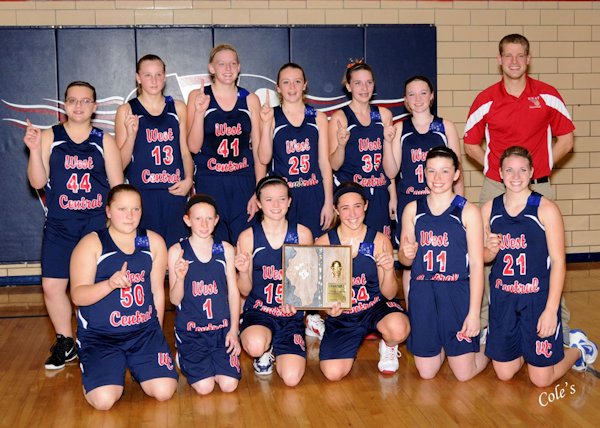 The 2012 IESA Class 3A State Team, ending in the elite 8 are from left front: Cassie Link, Shaylene Anderson, Katie Droste, Madison Benge, Jada Fletcher, Megan Krieger. Back row: Abbey Petri, Danyel McKune, Joni Lafary, Grace Brent, Abbey Steck, Emilee Landers and Head Coach Kris Judd. (Assistant Coach Tina Droste)
West Central Middle School champions, display their I.E.S.A. 2012 Class 8-3A Sectional Tournament trophy at West Central Middle School in Stronghurst, after an exciting game last week in a hard fought contest over Washington Central. The girls gave their audience a game they won't soon forget as they kept everyone on the edge of their seats until the very last second with a game winning basket and a final score of 35 to 33. Droste led with 16 points, Lafary-12, Benge-6 and Krieger contributed 1. A lot of excitement filled the gym, which carried over as the team boarded the bus Saturday morning, Dec. 8th, for the first 3A State game in Warrensburg-Latham High School to play the Wenona Fieldcrest Knights.
There was high hopes as the team held a 19-2 win-loss record, and had formed a discipline in their game that seldom allowed them to know the taste of defeat. It was a hard fought game, but at the final buzzer, the girls felt the sting of a mighty defeat, as Wenona Fieldcrest Knights snatched away their chances at playing in the Final Four and at attaining a state title. The final score was 49-42 with West Central's points coming from McKune-2, Brent-2, Benge-4, Droste-16, and Lafary-18. The Knights moved ahead in the game in the second half.
Scores by quarters were WC 13-20-30-42; WFK 8-21-35-49. The WC Heat team finished with a fantastic 19-3 season. A congratulatory page is on page 7 from area friends and businesses. The team is coachd by Kris Judd with assistant coach, Tina Droste.
Wenona was defeated by Monticello 32-21 in the Semifinals, and Teutopolis defeated St. Joseph. The two teams play for the state championship at 7:30, Dec. 13th.
---