The Hancock-Henderson Quill, Inc.
---
Meet Your Neighbor
by Joyce Wolf and Dessa Rodeffer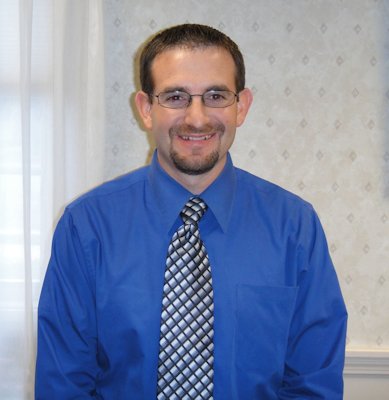 Meet your neighbor Aaron Leary, Branch Manger of Security Savings Bank in Stronghurst.
Aaron was born, raised, and currently lives in rural Little York, in Bald Bluff Township.
He is married to Sara (Goodwin) from Wyoming, (Illinois) and she operates a quilting business from their home.
Sara specializes in farm quilts and t-shirt quilts, (visit frontporchpatterns.com for details.)
The couple have two daughters, Rachel (7) and Rose (5), both attend United West Grade School.
Aaron's parents are Terry and Jill Leary who also live in rural Little York.
His father has farmed in the Little York and surrounding areas all of his life.
His mother, Jill, while helping with the farm, also helps Sara with the quilts and has operated Leary Country Decorating for many years focusing on window treatments.
Aaron has an older brother Derrick (Tiffany, Collin (3) & Dillon (8 months)who also farms with his dad and grandparents (Charles and Kathleen Leary).
His younger sister Kellsy (fiance Chad Scott) teaches early childhood at Bright Futures in Galesburg.
Aaron also has a grandmother, Zella McIntyre Alhers, who lives in Monmouth.
Aaron graduated from Yorkwood High School and the University of Illinois at Urbana/Champaign majoring in Agriculture Education.
While attending the U of I, he lived at Nabor House Agriculture Fraternity and met his wife Sara who lived at the 4-H House.
He was an active FFA and 4-H member in high school and enjoyed showing and competing at various competitions.
Upon graduation from the university, Aaron taught High School Agriculture at Yorkwood High School for two years.
He then worked as an Agriculture Education Program Advisor for a project funded through the Illinois State Board of Education for five years.
He is currently the Branch Manager/Loan Officer for Security Savings Bank in Stronghurst. He has been employed by Security Savings since June of 2010. 
In his spare time, Aaron volunteers on a number of boards/councils:  
the Henderson County Fair Board (serving as Treasurer),
the Illinois FFA Foundation Board (serving as Vice-chair) and
the University of Illinois Extension-Unit #10 Council (serving as Vice-Chair).
In his free time, he enjoys hunting, farming, and especially raising his girls. During the summer he enjoys taking the girls and cousin Jasmine to pig shows around the state, where he spent many of his summers as a youth.
---