The Hancock-Henderson Quill, Inc.
---
Meet Your Neighbor
by Christy Kienast-The Quill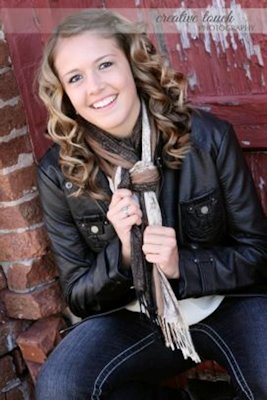 Meet your neighbor and Illini West Senior Addison Ufkes of Carthage.
Addison was born on December 10th, 1994 at Memorial Hospital in Carthage, the daughter of Brent and Angie Ufkes. Her father Brent is an auctioneer, farmer and an independent sales representative for Accelerated Genetics and her mother, Angie, is a cosmetologist.
Addison has one older sister, Ashley. She and her husband, Dillon Darbyshire have one son, Holton who is 19 months old and they are expecting another one. Ashley graduated from Carthage High School and is a nursing instructor at Blessing-Reiman.
Addison also has one older brother, Austin who graduated from Illini West and is currently a senior at Western Illinois University, studying in Ag Business. Austin works for Consolidated Grain and Barge.
Addison's grandparents are Jack and Bev Ufkes and Delmer and Cheryl Schlueter.
Addison is very involved in school activities. She is in volleyball, softball, Student Council, Key Club, and band.
She is also the wrestling statistician, the Vice-President for FFA, the Secretary for S.A.D.D (Students Against Destructive Decisions) and the VP for 4H.
Addison has been in the Burnside Rising Stars 4H Club for 9 years. Addison is also a very active member of the Trinity Lutheran Church in Carthage. Addison is also the 2012 Hancock County Beef Queen. She also ranked in the top 20 in the senior class.
Addison has many wonderful memories of her high school career. She was on the Homecoming Court this year, while in band she has traveled to Florida and marched at Disney World and she was in the school play last year. Addison has also been in the Youth Leadership Program through the Illinois Extension Office in Carthage and last summer she was able to travel to Washington, D.C. through the WIEC for their Youth to Washington program. She is also a member of the ASA softball team, Midwest Magic, who went to Nationals in Bloomington, Indiana.
Addison's hobbies include volleyball, softball and she enjoys spending time with her family and is very greatful for her nephew. Addison's most memorable high school moment was being the first Illini West Volleyball team to win the Suns Classic. She loves to go on vacation to the Ozarks every year with her family and friends.
After high school, Addison plans to attend John Wood Community College and play softball. Then transfer to Western Illinois University to pursue a degree in Ag Business.
---