The Hancock-Henderson Quill, Inc.
---
Girls Bring Home First Regional Championship Honors For West Central
The West Central 8th grade girls basketball have won their first regional championship in their school history having consolidated in 2006.
The girls went into the Regional tournament hosted in Farmington with a 2 seed, playing and defeating Green Valley on November 27.
The team faced Farmington in the Regional Championship November 29 when a 3rd quarter 11 point run was enough to keep their playoff run alive, defeating their opponents.
The girls finished their regular season with a record of 16 and 2, winning the La Harpe Tournament, the Sand Valley Tournament, and now the Regional Championship.
The Heat will play at home tonight at 6 pm in Sectional play against Washington Central with the winner advancing to the state tournament. The team is coached by Kris Judd.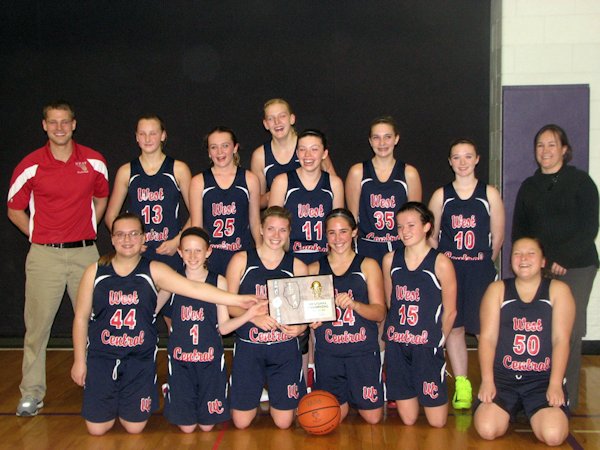 2012 West Central 8th Grade Girls Regional Champion Team: Back Row from left: Head Coach Kris Judd, Danielle McKune, Grace Brent, Joni Lafary, Jada Fletcher, Abby Steck, Emily Landers, Assistant Coach Tina Droste.
Front Row from left: Abbey Petri, Shaylene Anderson, Megan Krieger, Madison Benge, Katie Droste, and Cassie Link.
---