The Hancock-Henderson Quill, Inc.
---
Have A Seat - Remember A Friend
by Dessa Rodeffer, Quill Publisher/Owner
When the weather warms back up to reasonable, stop by the Broadway Cafe and have a seat on the newly constructed heavy duty bench, owner Carla Gardner has placed outside her Stronghurst eatery, in memory of a very missed customer – La Verne Dusenberg.
Although he was the first one to stop in Carla's restaurant, "Duesy," was kind of a loner. His mother had died, and his brother busy with family and career as an Engineer at Caterpillar, his son, grown and off on his own adventures, so he was pretty alone in town, ...except for the restaurant.
As Carla freshened up the cafe for opening day, she noticed paint on the vinyl of one of the bar stools and she was told, that is where "Duesy" sits, who paints off and on, for an income. She also said, there was a chipped mug he drank from.
Well, that had to change, and Carla tore off the painted vinyl and replaced it and threw away the chipped cup. When Duesy came in the first time 12 years ago, he looked around and asked, where am I suppose to sit?
Carla told him he could sit anywhere he wanted to. Afterhe noticed his cup was gone, she told him he could drink out of any of their cups.
That immediately brought a smile to his face.
"I'm going to like you," he told her.
That's when it began. "Carla and Diane Nesbitt would tease him, and keep him talking with their questions, and Carla would chase him out when he needed to bathe or tell him when to change his clothes, and not to come back until he had.
He loved his cigars and she would go outside where he dropped them on the walk and make him pick them up.
"Oh, we would fight," Carla said, "but he always made me smile, too."
Carla and Diane miss him terribly. He would be in the restaurant five times a day between 6 a.m. and 2 p.m.
They bought him birthday gifts and Christmas gifts, always smelly good things and clothes, Carla said.
We'd line his Christmas gifts up high on the ledge so he wouldn't get in to them. He'd come in and say "I can't wait, I can't wait, please give me one.
"So, I'd get one down and give it to him and he would be so excited.
"A t-shirt was his favorite gift which we got him as a joke. It had a chicken on it and it said "Chick Magnet." He ran home and put it on and came running back in, and said, "It fits!"
He wore it to death, and he also liked ball caps and was an avid sports fan and loved the Vikings. He read up on sports and knew all about them and enjoyed talking about them to us, Diane said.
Carla would have him paint her business for income to help him with his food and clothes.
"He could be a con man, she said. He turned in his hours to me one day and he had written down 28 hours. I said Duesy, there is only 24 hours in a day. He laughed and said, "you caught that!"
"I had to keep after him."
One summer I asked him to come to my cabin and paint it, and he told me he didn't paint on Sundays.
On Sunday, the girls and I were laying out back of the cabin in our bikinis and "I heard Duesy's truck coming up the drive.
He decided he wanted to paint and Carla told him to paint on the other side, but he insisted on painting the porch where the girls were. Instead of paying attention to his work, he painted right over the screen door because he was looking at the girls.
Diane recalls the time he was out front of Broadway Cafe painting. All at once she heard this racket and went to see and it was Duesy jumping his ladder to the next spot. She said, he was above the roof and I just couldn't look. but had to laugh.
It was hard for Carla when he got sick and went to the nursing home. She took him his favorite, custard pie. He told her he was tired, and he was going to say good-bye. He had looked good that day, but it was that day he died. It was a terrible, terrible loss."
Diane was in Myrtle Beach on vacation when Carla called with the news. "I had to go off to myself and have my cry. He died on my birthday– Oct. 12th. He did that on purpose, so I'd remember him. There's not a day that goes by that we don't miss him or that something happens and we think of him. Duesy will be missed, but he will always be here at the Broadway Cafe."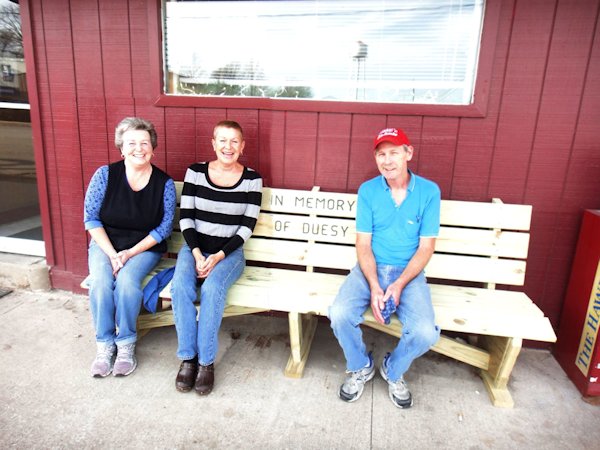 Diane Nesbitt, Carla Gardner, and Jerry Smith take time to sit and remember a friend.
---